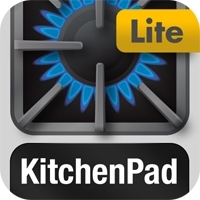 The app has proven an invaluable tool in many kitchens, preventing burning of food and saving time and money.
Ontario, Canada (PRWEB) March 10, 2011
Prativo Group Inc. today is pleased to introduce KitchenPad Timer Lite 1.0 for iOS, a free version of their acclaimed KitchenPad Timer Pro app that allows the user to set five stove-top timers and four oven timers simultaneously. The app has proven an invaluable tool in many kitchens, preventing burning of food and saving time and money. Featuring stainless steel stove and oven graphical interfaces, each timer displays: a description of what is cooking and where; a digital timer with elapsed hours, minutes, and seconds; a flame setting for the burner, or Fahrenheit, Celsius, or Gas Mark setting for the oven; and a choice of 15 different audio alerts (with Pro upgrade) with local and push alerts, even when the app is running in the background.
As the app opens in landscape mode, the user sees an overhead view of the five-burner stove on the left, and a head-on view of the four quadrants of the oven. Setting a timer on the stove is easy. The user simply touches the window adjacent to any of the burners, which launches a detailed pop-up window. Borrowing the stainless steel and cast iron motif of the stove and oven, the window has a silver border and charcoal control panel. The bright green digital numbers of the timer stand out clearly, with a maximum setting of 99 hours, 59 minutes, and 59 seconds. Upward and downward facing white arrows allow easy incrementing and decrementing of all timer settings.
The stove pop-up window also allows the selection of one of five burner flame settings: low, medium low, medium, medium high, and high. Once the timer has been set the window closes and an animated blue gas flame of the appropriate size is seen as the timer counts down. At the top of the pop-up window is an empty text field, where the chef may enter a brief description of what is going on that burner. A musical note button opens a scrolling menu of 15 different audio alert sounds (with Pro upgrade) from which to choose. Finally, touching the red Cancel button or the green Set Timer button closes the window.
The oven timer pop-up windows are the same as the stove windows, with one exception. In place of five burner-setting icons, there is a small text field where the user may enter the temperature. Fahrenheit and Celsius temperatures are entered directly using the iOS virtual keyboard. Selecting the Gas Mark button opens a window listing 10 choices, from Gas Mark 1 (140C/275F) through Gas Mark 10 (270C/520F), which is then displayed in the temperature text field.
Feature Highlights:

Take back control of mealtime with the all new, free KitchenPad Timer Lite
Nine independent timers provide multiple cook times for both stove-top and oven
Timer displays a description of what is cooking
Timer provides continuous display of cooking time remaining
Timer also displays the heat setting
Easy-to-use graphical interface and controls
KitchenPad Timer Lite provides at a glance a complete overview of everything that is cooking, making it easier to synchronize the preparation of sauces, etc. With nine independent timers on a single screen, coordinating multi-dish meal preparation becomes manageable, if not simple. All timers may be set, paused, or cancelled. Or, as stated in a glowing review appearing in the Los Angeles Times, "...may serve to soothe culinary anxiety...." In addition to home use, the Pro edition of the app may now be seen in the kitchens of chefs and bakers worldwide.
"The new KitchenPad Timer Pro v3.1 is finally ready for release," stated company CEO Michael Lapico. "And to celebrate we are releasing this first free edition, KitchenPad Timer Lite 1.0, so that everyone who cooks has an opportunity to try this app that can put an end to the loss of time and money caused by accidentally burned food."
Device Requirements:

iPhone, iPad, or iPod touch
iOS 3.0 or later (iOS 4 tested)
Universal application
5.0 MB
Pricing and Availability:
KitchenPad Timer Lite 1.0 is available free, and KitchenPad Timer Pro 3.1 is $1.99 (USD). Both are available worldwide, through the App Store in the Lifestyle category. The Pro edition contains no ads, and includes the ability to save and recall favorite timers, and the ability to set a unique alert sound for each timer. Review copies are available on request.
Developer Website
KitchenPad Timer Lite 1.0 - Website
App Store Download Link
KitchenPad Timer - Video Demo
###