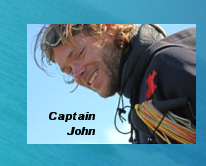 It's really about getting used to being hooked up, being pulled, and becoming
comfortable with it
San Francisco, CA (PRWEB) August 17, 2011
San Francisco kite boarding school, Kite the Bay is based on Treasure Island has designed an apparatus to help students get comfortable riding a board.
For those wanting to learn this exciting sport, spending time riding with the Kite Pole assimilates the feelings of kite in a controlled environment. By hooking up to the Kite Pole, a person is given the opportunity to feel the "lifting" and "pulling" component of kite surfing without being responsible to produce it. This allows a person to focus on the fundamentals of board skills.
"It's really about getting used to being hooked up, being pulled, and becoming comfortable with it," says Captain John of Kite the Bay. "Sure, it's about getting up and riding the board, but even body-dragging in the water is kind of weird at first. The Kite Pole helps a person to develop good habits early in the process."
With the Kite Pole, and San Francisco kite surfing lessons, students can learn proper body-dragging techniques, put the board on their feet, and even pretend to steer the kite while they are riding the board. Unable to ride both in a regular and goofy stance? The Kite Pole provides the perfect isolated environment to practice.
"I've taken lessons at various other schools, but I could only get up and ride for a few seconds. The Kite Pole has really helped me learn good board mechanics and relax more, so now I feel more prepared to ride!" Joe recalls of his board skills training with Kite the Bay in June of 2011.
Owner John von Tesmar saw the concept of the Kite Pole being used by a kite surfing out in Buxton, North Carolina-Kite Hatteras. "It seemed like a great way to break the learning process down into stages. Until now, there were no alternatives to teaching board skills other than giving the person the board while they're flying the kite. It was a lot to coordinate. Now, people are more successful at handling a board and kite simultaneously.
About Kite the Bay
The San Francisco kite surfing company, Kite the Bay began it operation in the San Francisco Bay Area in 2010. It is a full service school offering lessons from beginner to advanced and leads kite surfing tours throughout the bay. For more information, contact Kite the Bay at 650-303-0587 or email Captainjohn(at)kitethebay(dot)com.
###