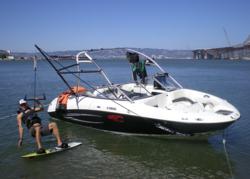 Using a jet boat has so many advantages over the jet ski
San Francisco, CA (PRWEB) August 16, 2011
San Francisco kite surfing company, Kite the Bay uses a 21 foot jet boat to provide support to kite surfing clientele. The boat, named Windseeker, can take up to 6 people and their gear on a kite surfing expedition. It affords more space and comfort than the more typical "jet ski" that has been the conventional support boat used by many other kite surfing schools.
"Using a jet boat has so many advantages over the jet ski" says Captain John, owner of San Francisco kite surfing lessons, Kite the Bay. Not only is it more enjoyable for the students to be on the water, but people can take breaks in the boat while their partner is out in the water practicing with the kite.
"When they come out of the water, they relax, and watch their friends work on the moves. It really speeds up the learning process," Captain John adds.
"It's great when I can come out with my three friends and we all learn together," remarks Chris, who started kite surfing lessons and learning how to kite surf with his friends Martin and Dave in July. "It's great having all the gear here in the boat and also being able to get completely out of the water and wind when you want. You learn a lot from watching your buddies work on the same stuff too!"
Kite the Bay kite boarding company started its operation in 2010. The owner, John von Tesmar, believed a larger, more fully equipped boat, would optimize the kite surfing experience. "Being a kite surfer in the Bay Area, it helps to be creative with how to get out on the water for a session. There's not a whole lot of accessible beaches, but there's a ton of wind and water. The boat acts like an island; you can launch your kite from it, and come back to it when you're finished with your session. It's super convenient and quick! We can go wherever the wind is!"
About Kite the Bay
John is a captain, licensed by the United States Coast Guard in 2010, and has been
both a windsurf and kite surf instructor since 1999. This San Francisco kite boarding instructor has spent time and kite surfed in the Columbia River Gorge in Oregon, the Outer Banks in North Carolina, and up and down the coast of California.
For more info contact KiteTheBay at 650-303-0587, or email Captainjohn(at)KiteTheBay(dot)com
###