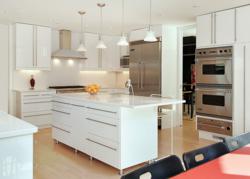 Kitset Kitchens' stylish and customised system is proving extremely attractive to the DIY kitchens market.
Melbourne, Victoria (PRWEB) April 01, 2012
Despite continuing tales of woe in the retail sector, Kitset Kitchens has had a record start to the year, surpassing the 1,000 mark in March. Largely stemming from the DIY kitchens market, this milestone also occurred in what has traditionally been a more difficult time for the company, when consumers are usually focused on paying off their credit card debt from the festive period.
"We're still living in a challenging economic period, so consumers are looking for cost-effective ways to renovate their kitchen without compromising on quality or having to resort to generic, off the shelf options," states James Callinan, General Manager.
"A lot of our customers are drawn to our system because it allows them to create a fully customised kitchen to their exact measurements, with the same components they'll find in the exclusive kitchen showrooms."
Having been in operation for more than 50 years, Kitset Kitchens have built strong relationships with the suppliers of Australia's premium kitchen products including Caesarstone, Polytec, Laminex and Hettich.
Their commitment to supplying the best value kitchens in Australia is underpinned by a strong guarantee of offering the lowest price, and will beat any written quote for a made-to-measure kitchen of comparable quality.
They also back the quality of their kitchens with an unparalleled 30-year warranty.
An emerging trend that Kitset Kitchens have noticed within the DIY kitchens market is somewhat of a contemporary slant on the long-running 'do it yourself' theme.
"While you don't need to be a genius to assemble and install your own kitchen, a large proportion of our customers simply don't have the time or inclination to do it themselves. However they also aren't interested in paying top dollar for a company to manage the process from start to finish," explains Mr Callinan.
"So while they may not be DIY kitchens in the sense of the customer installing it themselves, by unbundling the process and taking on the role of project manager, they still achieve their ideal kitchen, without the expensive price tag."
Customers who opt for this modern approach will find that the Kitset Kitchens system adapts to their particular situation – they can either organise their own installer or choose from a list of professionals that Kitset Kitchens recommends.
In addition to the DIY kitchens market, Kitset Kitchens also continue to increase their presence within the residential and commercial development arenas.
While their customer base is strong in their home state of Victoria, Kitset Kitchens have enjoyed growing demand both nationwide and internationally – providing a high-quality kitchen fit out to as far away as Vanuatu.
To accommodate the escalating demand for its products occurring across the globe, Kitset Kitchens recently expanded its factory in Hamilton, Victoria, and now boasts one of the largest manufacturing facilities in Australia.
In addition to the manufacturing plant, Kitset Kitchens also has a design centre in Hamilton as well as Ballarat and the Melbourne suburbs of Blackburn, Thornbury and Moorabbin.
For more information on the Kitset Kitchens system, visit http://www.kitsetkitchens.com.au
About Kitset Kitchens
Proudly Australian owned for more than 50 years, Kitset Kitchens has had a long history of manufacturing kitchens that feature the highest standards of design, production, quality control and customer service.
The use of European manufacturing technology and state-of-the-art computer integration allow Kitset Kitchens to produce kitchens of the highest quality, providing customers with extremely flexible, stylish and cost-effective kitchen solutions.