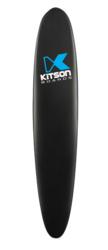 We pride ourselves on not only crafting high quality USA made products, but also contributing to the South Sound economy by adding more jobs to the mix
Olympia, WA (PRWEB) January 19, 2013
Even though Kitson Boards only launched its signature carbon fiber paddle board and surfboard line last spring, their products have already reached high demand.
Until now, their team of three layout experts have been able to keep up with sales, but with the increase in orders it became apparent to AmazingUniverse.com President, Michael Kitson, that they needed to not only move to a larger space, but also increase their staff.
"We've been planning to move to a bigger facility now for a few months," said Kitson, "Bigger facility means we can turn out more product, but in order to do that, we also need more people."
AmazingUniverse,com, the parents company responsible for the online retailers Wine Rack Store.com and Kitson Boards is seeking to hire more skilled workers and doubling their current production team by the years end.
"We pride ourselves on not only crafting high quality USA made products, but also contributing to the South Sound economy by adding more jobs to the mix," said the company's Communications Director, Heather Hoskins.
Founded by Michael and Denise Kitson, Kitson Boards, LLC headquarters is located in Olympia, WA. Kitson Boards are all crafted out of the ultra durable and long lasting carbon fiber material. All production of surfboards, paddle boards and wakesurf boards, as well as the people behind the brand are based in North America and is the only board producer to do so. Kitson Boards prides itself on outstanding customer service and only the finest in recreational boarding and accessories. Free shipping is available throughout the continental USA.