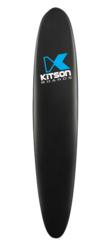 The only USA Based carbon fiber surfboard and paddle board manufacturer decided to donate a fishtail surfboard to the event, which is slotted to take place in February of 2013
Olympia, Wash. (PRWEB) December 22, 2012
When a California State University located in Seaside recently reached out to Wine Rack Store for a donation for their annual fundraiser for a second year in a row, AmazingUniverse.com Inc new brand, Kitson Boards, was also interested in participating.
The only USA Based carbon fiber surfboard and paddle board manufacturer decided to donate a fishtail surfboard to the event, which is slotted to take place in February of 2013.
"I attended this school myself," said Communications Director for Wine Rack Store, Heather Hoskins, "It is such a wonderful institution and I love that my company can help me give back."
In addition to the surfboard provided by Kitson Boards, Wine Rack Store donated again, this year choosing to send a 48 bottle instant wine cellar to the auction.
Founded by Michael and Denise Kitson, Kitson Boards, LLC headquarters is located in Olympia, WA. Kitson Boards are all crafted out of the ultra durable and long lasting carbon fiber material. All production of surfboards, paddle boards and wakesurf boards, as well as the people behind the brand are based in North America and is the only board producer to do so. Kitson Boards prides itself on outstanding customer service and only the finest in recreational boarding and accessories. Free shipping is available throughout the continental USA.