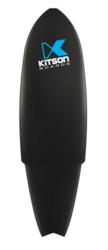 The wakesurf culture is making wave of it's own
Olympia, WA (PRWEB) May 26, 2012
Kitson Boards is the premier manufacturer of ultra durable and long lasting carbon fiber paddle boards and surfboards. Now that they have perfected their surf and SUP designs, Kitson Boards Engineer, Travis Dodge has decided it was time to roll out their line of wakesurf boards.
"The wakesurf culture is making wave of it's own," said Dodge, "We felt that by expanding our offerings to include this niche in the market, we could introduce a wider range of surf lovers to our amazing carbon fiber boards."
As with all surfboard and paddle board varieties Kitson Boards currently offers, the new wakesurf line will also be crafted out of the same ultra durable carbon fiber technology.
Within the Kitson family of wakesurf boards, customers have a choice between diamond tail, simple, egg or stinger fish designs. And like any Kitson Board, these wakeurf board also come with the option to add customized graphics in order to create the most unique and personalized surfboard for clients.
Kitson Board wakesurfs are just another great offering to choose from when picking out the ideal surfboard. "They are designed with speed and accuracy in mind," said Dodge.
Founded by Michael and Denise Kitson, Kitson Boards, LLC headquarters is located in Olympia, WA. All production of products as well as the people behind the brand are based in North America. Kitson Boards prides itself on outstanding customer service and only the finest in recreational boarding and accessories. Free shipping is available on all surfboards, paddle boards, wakesurf boards, body boards, clothing and accessories throughout the continental USA.