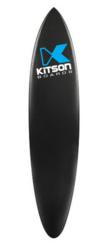 As in any business, customer feedback is important, if we get a request for something we don't already have, we will be more than happy to accommodate
Olympia, WA (PRWEB) May 21, 2012
Michael Kitson, President of Kitson Boards, LLC has always dreamt of creating ultra durable carbon fiber surfboards and paddle boards. Now that he has achieved the product he always desired, he felt it was time to further customize the options.
After speaking to a neighbor that specialized in customized signs, Kitson realized the market for students and sports lovers alike.
"Even though his business is specialized for the Pacific Northwest, his Washington college logo options are very well received by his customers," said Kitson, "He really opened my eyes to the popularity of these types of logos on our own surf and SUP products."
Along with the option to add a college or university logo to any board order, Kitson also plans to roll out the option to incorporate any sports team as well.
"Our first step is to gather up some of the more well known logos and start there," said Kitson, "But, as in any business, customer feedback is important, if we get a request for something we don't already have, we will be more than happy to accommodate any request."
Founded by Michael and Denise Kitson, Kitson Boards, LLC headquarters is located in Olympia, WA. All production of products as well as the people behind the brand are based in North America. Kitson Boards prides itself on outstanding customer service and only the finest in recreational boarding and accessories. Free shipping is available on all surfboards, paddle boards, body boards and accessories throughout the continental USA.