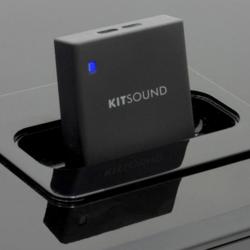 Don't throw away expensive iPhone docks, re-use them with any bluetooth device thanks to the KitSound Dock Air.
Birmingham, West Midlands (PRWEB UK) 12 December 2012
Mobile Fun, the UK's leading online retailer of mobile phone and tablet accessories have received stock of the innovative KitSound Dock Air Bluetooth Adaptor: a clever device which allows old iPhone docks to be recycled.
A revolutionary product, the KitSound Dock Air Bluetooth Adaptor can remove the need for an iPhone 5 docking station as it utilizes the old Apple 30 pin connection on older docking stations and turns them into a wireless bluetooth stereo. This means that music can be streamed through any bluetooth device and that expensive iPhone 30 pin docks don't go to waste.
The Dock Air is extremely easy to use as it doesn't require any software or apps to be downloaded. Simply connect it to the 30 pin dock on the speaker and pair your device with the Dock Air and music or media is ready to stream, which is all controlled through your smartphone or music device.
Not only great for music, the KitSound Dock Air Bluetooth Adaptor can be used to stream podcasts or the audio from movies for an all round audio experience. Plus as the audio being played is being controlled through a smartphone or audio device, what's on is easy to change and can be done from the comfort of the settee.
The Dock Air has a range of 10 metres so is suitable for use at home, in hotel rooms, in the office and even for parties. As the Dock Air is so small it can simply be popped in a bag and used whenever it's needed, so audio can be streamed anywhere, at any time.
A truly unique accessory, the KitSound Dock Air Bluetooth Adaptor is available now from Mobile Fun.
-ENDS-
About Mobile Fun
Birmingham based MobileFun.co.uk is the UK's biggest online retailer of Mobile Accessories, Mobile Phones, Ringtones and Mobile Java Games.
Mobile Fun has offices in the UK, Germany, Spain and France and delivers products to over 50 countries worldwide
Mobile Fun were recently named the 'Best Accessory Retailer' 2012 at the What Mobile Awards and won the title of Online Retailer of the Year at the Mobile News Awards 2012 for the second year running.