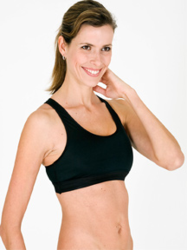 Our customers can feel the difference of over 100 years experience in our undergarment manufacturing.
Miami, FL (PRWEB) November 15, 2011
Klienert's Inc., a trusted brand since 1869 continues to innovate with the introduction of a line of advanced sports bras for active women.
Treated with Kleinert's patented process, the bras are sweat-proof, stain-proof and anti-odor treated unlike any other product made. The special pattern design provides for a great snug fit. No more shifting unlike other lines of sports bras.
The anti-bacterial treatment of Kleinert's sport bras is important for women that wear any bra for exercise, indoor or outdoor. Women's skin is extra-sensitive around the bra-line. The treatment helps to reduce redness and infection that can be the result wearing an inferior sports bra product.
Kleinert's sports bras are made with a superior construction using flat lock stitching that provides a smoother fit so women feel no seams and no irritation.
"Women are very aware of seams in active-wear products," says Michael Brier, President of Kleinert's. "Our customers can feel the difference of over 100 years experience in our undergarment manufacturing."
In addition to Kleinert's unique sports bra, the company also features sweat-proof undershirts, t-shirts, camisoles, garment shields, clinical antiperspirants, and undergarments. No other company in the world makes such a complete line of sweat protection products.
Kleinerts.com features the lowest priced, factory direct pricing on over 200 personal hygiene products. Many are available nowhere else. Live help and a toll free number are prominently listed.
The company proudly manufactures its own quality products in the United States. The plant is located in Elba, Alabama, doing its part to contribute to the local economy.
About Kleinert's, Inc./Hygienics Industries
Kleinert's, Inc. is a pioneer in the undergarment and protective garment industries, founded in 1869 by I. B. Kleinert. Michael Brier, President and CEO continues to grow the Kleinert's brand. The company sells over $5 million in product annually directly to consumers, lingerie stores, and large clients such as Disney, Cirque Du Soleil and the U.S. Military Cadets at West Point.
For more information, contact Michael Brier at 305-937-0813.
###