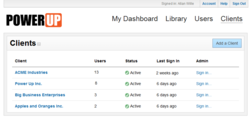 The era of manually generated reports is at an end. In today's fast-paced business world, you need real-time KPIs that are accessible anywhere.
Ottawa, Canada (PRWEB) May 31, 2012
Klipfolio Inc. today announced the release of a new suite of features available for its white-label and OEM program. The additions grants Klipfolio partners unparalleled control over their dashboard, allowing them to manage virtually any detail associated with the cloud and mobile BI dashboards they deploy to their customers. Partners can replace visual elements such as the logo, set up URL cloaking, and even add their own custom CSS to change the look and feel of the application and to keep the focus exclusively on their organization. As well, partners can now easily add new customers, and effectively administer their clients' dashboards, whether they want to set up a new dashboard for a client or add users to the application.
For over 10 years, Klipfolio has worked with the Fortune 1000 to develop KPI dashboards that meet and exceed today's data demands. Klipfolio Dashboard is an automated, real-time web and mobile accessible dashboard that delivers value to partners by dramatically reducing the time and effort creating KPI reports. Klipfolio's white-label and OEM program is a proven way to augment existing client relationships - particularly for marketing agencies - and drive incremental services revenue. White-label partners can set their own pricing model, and offer access to Klipfolio Dashboard as part of a bundle or charge a premium for the service.
"The era of manually generated reports is at an end," says Allan Wille, CEO and President of Klipfolio. "A fully automated dashboard like Klipfolio Dashboard not only saves time and effort compiling reports, it also increases the visibility of key metrics. In today's fast-paced business world, you need that information to be in real-time and accessible anywhere."
About Klipfolio Inc.
Klipfolio develops Klipfolio Dashboard – the KPI Dashboard – to help the Fortune 1000 increase the visibility of key performance indicators for informed decisions that improve performance and profitability. Klipfolio Dashboard is the only enterprise dashboard that presents information where it's always visible and actionable. Clients include Intel, Staples, Aviva, Baxter Healthcare, and Lufthansa.
For more information visit http://www.klipfolio.com, call +1.877.233.6149 US and Canada or +1.613.233.6149 Worldwide, or email sales(at)klipfolio(dot)com.
For media inquiries only, please contact:
Allan Wille
+1 613 233 6149
press(at)klipfolio(dot)com