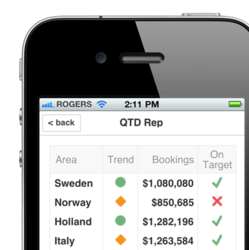 In the 3 years we've conducted this study, it's clear that mobile BI has moved from hype to reality.
Ottawa, Canada (PRWEB) December 13, 2012
Klipfolio Inc today announced that it has been ranked amongst the top 5 mobile business intelligence vendors rated in the 2012 Wisdom of Crowds® Mobile Business Intelligence Market Study published by Dresner Advisory Services. This rating confirms Klipfolio's status as a key player in the mobile BI space and as a vendor to watch for in 2013.
Key findings from the report:

BI still ranked 3rd among mobile application priorities for organizations, but continues to grow in importance.
Two-thirds of respondents indicated their organization was either somewhat or completely culturally prepared for paradigm shift associated with adoption of mobile BI.
Users indicated aggressive mobile BI implementation plans through 2015 with the smallest and largest enterprises leading the way.
"In the 3 years we've conducted this study, it's clear that mobile BI has moved from hype to reality. More than two-thirds of respondents are preparing for the paradigm shift that mobile computing is bringing to BI," said Howard Dresner, Chief Research Officer, Dresner Advisory Services, and author of the 2012 Wisdom of Crowds® Mobile Business Intelligence Market Study. "Mobile devices are fuelling the adoption of business intelligence applications."
"The growing importance of mobile BI represents a wider phenomenon within the BI landscape. It's now easier, quicker, and less expensive to share relevant, actionable data with everyone in your organization," Allan Wille, CEO and President of Klipfolio. "It's quite remarkable that only a year after the launch of Klipfolio Dashboard, we're already considered a top mobile BI vendor."
The Mobile Business Intelligence Market Study represents responses from North America, EMEA, AsiaPAC, and LATAM, across a number of functions, titles, company sizes, and industries. Over 250 survey respondents were analyzed.
About Dresner Advisory Services
Dresner Advisory Services was formed by Howard Dresner, an independent analyst, author, lecturer and business adviser. Dresner Advisory Services, LLC focuses on creating and sharing thought leadership for Business Intelligence (BI) and Performance Management (EPM).
About Howard Dresner
Howard Dresner is Chief Research Officer at Dresner Advisory Services, LLC, an independent advisory firm and a well-known authority and author in the areas of Business Intelligence and Performance Management.
Howard has over 30 years of IT industry experience with 23 years in the Business Intelligence market. He spent 13 years at Gartner, where he was a Research Fellow and Lead Analyst for BI. He also served as Chief Strategy Officer at Hyperion Solutions prior to forming Dresner Advisory Services.
Howard is a frequent speaker around the globe and has published two books on business intelligence: Profiles in Performance – Business Intelligence Journeys and the Roadmap for Change (John Wiley & Sons, November 2009) and The Performance Management Revolution: Business Results through Insight and Action (John Wiley & Sons, November 2007).
About Klipfolio Dashboard for web and mobile
Klipfolio Dashboard is a web and mobile accessible dashboard that is focused on the real-time visibility of operational data. Klipfolio Dashboard web and mobile can connect to virtually any data source making it a logical choice for any department or organization. Klipfolio Dashboard represents the next step in the evolution of operational BI dashboards, combining a state of the art self-service platform with the agility of the cloud and mobile devices.