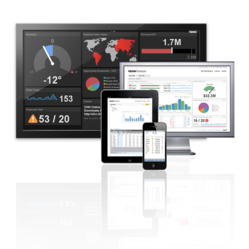 It's remarkable that only a year after the launch of our web and mobile dashboard, we're being recognized as a top BI vendor.
Ottawa, Canada (PRWEB) January 22, 2013
2012 was a breakout year for the Ottawa-based mobile BI vendor, Klipfolio, with the company recording an astonishing six-fold growth in its customer base. This growth has been fuelled by interest in Klipfolio's web and mobile BI dashboard, a data visualization platform that specializes in addressing the real-time data needs of the modern enterprise. Once the "secret weapon" of the Fortune 1000, Klipfolio is increasingly being used by enterprises of all shapes and sizes, a key factor in the growth of its customer base.
In addition to the remarkable growth in its customer base, Klipfolio's mobile BI product has gained recognition from leading analyst firms. In late 2012, Klipfolio was rated as a top 5 mobile BI vendor in the latest Dresner Advisory Services study, confirming Klipfolio's emergence as a key player in the hotly contested mobile BI space.
When contacted for comment, Klipfolio's CEO and President Allan Wille had this to say: "It's a remarkable feat that only a year after the launch of our web and mobile dashboard, we're being recognized as a top BI vendor. We don't take this rating lightly, and are looking forward to making 2013 an even bigger, better year."
What is Klipfolio Dashboard for web and mobile?
Klipfolio Dashboard is a web and mobile dashboard that is focused on the real-time visibility of operational data. Klipfolio Dashboard web and mobile can connect to virtually any data source making it a logical choice for any department or organization. Klipfolio Dashboard represents the next step in the evolution of operational BI dashboards, combining a state of the art self-service platform with the agility of the cloud and mobile devices.
About Klipfolio
Klipfolio helps the world's most successful companies increase the visibility of real-time business information, resulting in faster, more informed decision-making that improves performance and profitability. Call it operational or tactical BI, real-time or right-time, Klipfolio is the leader in making frequently changing critical business information visible throughout your organization - no matter where you are, or what device you are using. Check out these KPI examples to see how Klipfolio is helping organizations around the world
For more information visit http://www.klipfolio.com, call +1.877.233.6149 US and Canada or+1.613.233.6149 Worldwide, or email sales(at)klipfolio(dot)com.
For media inquiries only, please contact:
Allan Wille
+1 613 233 6149
press(at)klipfolio(dot)com