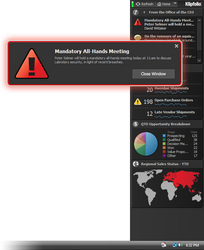 "The new real-time publishing system is invaluable for employee alerts. Above and beyond internal communications, every department needs to communicate with their staff. Klipfolio Dashboard Publisher let's managers and communicators notify the workforce w
Ottawa, Canada (PRWEB) December 1, 2009
Klipfolio, Inc., developer of KPI dashboards, today announced the immediate availability of Klipfolio Dashboard version 5.3. The dashboard software now adds organizational and departmental notifications and alerts to its well-known strength in KPI reporting for operational decision makers.
While dashboard software aims to give workers the performance data they need when they need it, achieving this goal can also increase the burden on overworked IT departments. Klipfolio Dashboard solves the first problem by putting KPIs in front of every employee all day long. Now Klipfolio addresses the second problem with real-time alerts and notification that are completely self-serve and require no IT intervention.
KPI dashboards from Klipfolio are popular with Fortune 1000 firms like Baxter Healthcare, EMC and Lufthansa for improving data visibility for business performance metrics using a light-weight desktop dashboard that exposes performance indicators and drives application adoption.
"The new real-time publishing system is invaluable for employee alerts," says Allan Wille, President & CEO of Klipfolio. "Above and beyond internal communications, every department needs to communicate with their staff. Klipfolio Dashboard Publisher let's managers and communicators notify the workforce with anything from passive news to critical alerts that require acknowledgement – all without any added IT effort."
The 5.3 release also builds on Klipfolio Dashboard's ability to share KPIs at a glance. In addition to tables and bar charts, desktop dashboard users can now visualize KPIs in interactive pie charts as well as searching and filtering dashboard KPIs with a new find feature. Finally, the new version also adds support for Microsoft's XML Excel spreadsheets – the .xlsx format.
Get a free 30-day trial download version of Klipfolio Dashboard v5.3 at http://www.klipfolio.com.
About Klipfolio Inc.
Klipfolio develops Klipfolio Dashboard – the KPI Dashboard – to help the Fortune 1000 increase the visibility of key performance indicators for informed decisions that improve performance and profitability. It is the only business dashboard that presents operational information directly on the desktop where it's always visible, accessible, and actionable. Clients include Intel, Staples, Baxter Healthcare, EMC and Lufthansa. For more information, visit http://www.klipfolio.com. For more information visit http://www.klipfolio.com, call +1.877.233.6149 US and Canada or +1.613.233.6149 Worldwide, or email sales(at)klipfolio.com.
###