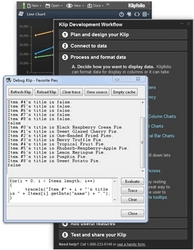 Ottawa, Canada (PRWEB) September 14, 2010
Klipfolio, Inc., developer of Klipfolio Dashboard – the KPI Dashboard – today announced the immediate availability of Klipfolio Dashboard Developer Edition. The new product makes it fast and easy for database administrators (DBAs), web developers and enterprise architects to build great enterprise dashboards.
New in this edition of Klipfolio Dashboard is the development workflow assistant: a simple, integrated, step-by-step guide to building custom dashboard modules called Klips. From connecting to your data sources to processing and presentation, the workflow assistant streamlines development with guidance and links to documentation and APIs, right when--and where--you need them.
Also new are more than three dozen built-in templates, samples and demos to kick start your next dashboard project, saving you time and money.
Klipfolio Dashboard Developer Edition has a tightly integrated debugger to help you evaluate and trace dashboard output, catch script errors and test code more efficiently. And with a tailored user interface, developer tools are front-and-center, exactly where they should be, and accessible through keyboard shortcuts.
Availability
To see Klipfolio Dashboard Developer Edition for yourself, please watch the video on our website. Klipfolio Dashboard Developer Edition is available as a subscription for $395 per user. Purchases can be made online or by contacting sales at +1.613.233.6149.
About Klipfolio Inc.
Klipfolio develops Klipfolio Dashboard – the KPI Dashboard – to help the Fortune 1000 increase the visibility of key performance indicators for informed decisions that improve performance and profitability. It is the only business dashboard that presents operational information directly on the desktop where it's always visible, accessible, and actionable. Clients include Intel, Staples, Baxter Healthcare, EMC and Lufthansa. For more information, visit http://www.klipfolio.com. For more information visit http://www.klipfolio.com, call +1.877.233.6149 US and Canada or +1.613.233.6149 Worldwide, or email sales(at)klipfolio(dot)com.
###