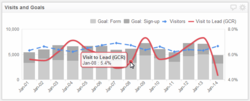 We've noticed a remarkable increase in the number of marketing agencies using Klipfolio Dashboard.
Ottawa, Canada (PRWEB) January 29, 2013
Klipfolio's web and mobile dashboard has been garnering interest from top marketing agencies since it went public in September 2011. Now, with the latest release of Klipfolio Dashboard, marketers and web analytics professionals have a powerful new tool at their disposal: the Google Analytics data connector.
The data connector is aimed at providing non-technical users with an easy to use interface to retrieve data sets from their Google Analytics account. In simple mode, users can use drop-down menus to select metrics, dimensions, and a time period to retrieve from their account. In advanced mode, users familiar with the Google Analytics API can leverage their expertise to craft detailed queries.
While Klipfolio Dashboard for web and mobile is designed to be a department agnostic KPI platform, it has received significant attention from agencies monitoring marketing KPIs and metrics. When asked to comment, Klipfolio CEO and President Allan Wille had this to add:
"We've noticed a remarkable increase in the number of marketing agencies using Klipfolio Dashboard. This is because we are focused on operational and real-time data - this synergizes extremely well with marketing departments measuring campaign performance, web analytics, and SEO."
What is Klipfolio Dashboard for web and mobile?
Klipfolio Dashboard is a web and mobile dashboard that is focused on the real-time visibility of operational data. Klipfolio Dashboard web and mobile can connect to virtually any data source making it a logical choice for any department or organization. Klipfolio Dashboard represents the next step in the evolution of operational BI dashboards, combining a state of the art self-service platform with the agility of the cloud and mobile devices.
About Klipfolio
Klipfolio helps the world's most successful companies increase the visibility of real-time business metrics, resulting in faster, more informed decision-making that improves performance and profitability. Call it operational or tactical BI, real-time or right-time, Klipfolio is the leader in making frequently changing critical business information visible throughout your organization - no matter where you are, or what device you are using.