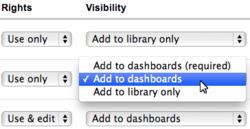 Insights need to be shared in a timely manner so that you can act on today's insights, rather than react to yesterday's bad news.
Ottawa, Canada (PRWEB) April 02, 2013
Klipfolio Inc. today announced that the latest version of its web dashboard is now live. This release focuses on making it easier for users to view, share and act on insights by simplifying how dashboards and data is shared within the application. The user management section has undergone a redesign to improve usability and includes options to share assets like dashboards and widgets directly with a group.
The value of any real-time dashboard is derived from the action it inspires. If dashboard users are unable to quickly and effectively share insights with their colleagues, the ROI of the dashboard investment is at risk. Klipfolio's user-model addresses this issue by allowing administrators to organize users based on their role within an organization, and share insights that are relevant to that position. Assets such as dashboards are shared with entire groups of users -- for example, an administrator can share a social media dashboard directly with marketing professionals.
"If a tree falls in the woods and no one is there to see it, then it's going to be a while before any one is able to act on that information," says Allan Wille, CEO and President of Klipfolio. "The same is true for dashboards -- insights need to be shared in a timely manner so that you can act on today's insights, rather than react to yesterday's bad news."
What is Klipfolio Dashboard for web and mobile?
Klipfolio Dashboard is a real-time KPI dashboard that is cloud-hosted, web and mobile accessible and always online when you need it. Klipfolio's web-based dashboard can connect to virtually any data source making it a logical choice for any department or organization. Klipfolio Dashboard represents the next step in the evolution of operational BI dashboards, combining a state of the art self-service platform with the agility of the cloud and mobile devices.
About Klipfolio
Klipfolio helps the world's most successful companies increase the visibility of real-time business information, resulting in faster, more informed decision-making that improves performance and profitability. Call it operational or tactical BI, real-time or right-time, Klipfolio is the leader in making frequently changing critical business information visible throughout your organization - no matter where you are, or what device you are using.
For more information visit http://www.klipfolio.com, call +1.877.233.6149 US and Canada or+1.613.233.6149 Worldwide, or email sales(at)klipfolio(dot)com.
For media inquiries only, please contact:
Allan Wille
+1 613 233 6149
press(at)klipfolio(dot)com