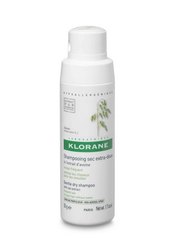 With my hectic lifestyle, I rely on my Klorane Dry shampoo. I keep one at home, one at the office and love to use it when I'm traveling since it saves me time when I'm on the run. It also comes in quite handy on the movie set.
New York, NY (Vocus) July 29, 2008
As noted recently in The New York Times Styles section (Feb 21, 2008) and Washington Post Express (April 11, 2008) there is a surge in popularity of dry shampoos. Products such as Klorane Extra Gentle Dry Shampoo with Oat Extract and Rene Furterer Naturia Dry Shampoo have been key hair products used backstage at fashion week and a favorite of celebrity hair stylists. Klorane has now put a new 'twist' on the dry shampoo concept, introducing a new eco-friendly dry shampoo: KloraneECO Gentle Dry Shampoo with oat extract. This new eco-friendly version features a new, non-aerosol delivery system with recyclable packaging. Simply shake, 'twist', squeeze and the result is cleaner hair with the added benefit of a cleaner environment.
Since KloraneECO Gentle Dry Shampoo does not require water, is aerosol free with recyclable packaging, this product achieves environmentally friendly status and simplifies users' daily hair care regimen. Time is more precious than ever and dry shampoo is a multi-functional hair product that benefits everyone from busy moms to executives to anyone who wants to extend the time between regular washings.
Hollywood Producer, Jennifer Klein says, "With my hectic lifestyle, I rely on my Klorane Dry shampoo. I keep one at home, one at the office and love to use it when I'm traveling since it saves me time when I'm on the run. It also comes in quite handy on the movie set."
Using the absorbing power of corn and rice starch as well as soothing oat extract, KloraneECO Gentle Dry Shampoo removes dirt and oil without the use of water, leaving hair soft with renewed volume and a fresh, clean scent. Since it works on all hair types, it is good for color-treated or curly hair, between blow outs, and for those with hair extensions. Lightweight and aerosol free, it is great for everyday use, travel, gym bag, and for those who are convalescing.
Celebrity and editorial hair stylist Tony Chavez stated, "I think one of the greatest things about using dry shampoo is the soft volume it gives your hair and the texture it adds. I like to use KloraneECO Dry Shampoo non-aerosol on my clients and photo shoots because it cuts the unwanted oil and adds great texture, making hair much more pliable and responsive to styling tools. It's also great when used in conjunction with other styling products."
In an independent survey of 100 participants, 82% of the people who tested KloraneECO Dry Shampoo non-aerosol felt hair was as clean as when shampooing with water and 91% of the people tested felt that their hair had more volume.
KloraneECO Dry Shampoo non-aerosol is available exclusively at Sephora and Sephora.com. A 1.7oz / 50ml bottle is $18 suggested retail.
Attention media members: For a high-resolution picture of Klorane Extra Gentle Dry Shampoo, click here.
About Klorane
A Passion for Plants:
Klorane Laboratories' philosophy is based on a passion for plants and nature. The Phytofilière®, the only chain of plant expertise of its kind in the world, was born of this philosophy and guarantees high levels of quality, efficacy and safety. As explorers of the plant kingdom we continually study all plant species in order to discover their potential benefits. Through our products, Klorane Laboratories conveys a number of values: authenticity, simplicity and safety. Klorane is owned by Pierre Fabre Laboratories, the largest privately held pharmaceutical company in France.
Respecting the Environment and Giving Back to the Community:
The plant kingdom comes under threat every day. Respect for plant heritage is of fundamental importance for Klorane Laboratories, where we actively work to protect nature by virtue of our Corporate Foundation. The Klorane Institute strives to make young people more aware about botany through educational initiatives, offers its support to all those sharing its vocation (thesis awards, research grants, etc.), works in close collaboration with dispensing pharmacists (information posters and brochures), creates botanical sites, and organizes botany days and visits to garden throughout France. Klorane had organized a program to plant trees in certain communities.
Scientific Expertise:
Raising cosmetics to the status of pharmaceutical product, Pierre Fabre Laboratories volunteers its scientific expertise to answer a wide variety of different needs. This has resulted in the establishment of numerous partnerships with public research bodies, and in particular with the CNRS, Universities, and INSERM. The Group owns a number of research sites, such as the Toulouse Institute for Sciences and Technologies in Medicine (ISTMT) targeting natural substances, and Saint-Julien-en-Genevois for immunology.
Contact:
Diane Biancamano
Director of Public Relations
dbiancamano @ pfdcusa.com
908-723-1745
###