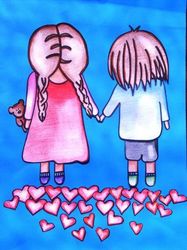 Sydney, NSW (PRWEB) September 5, 2009
Young and upcoming Australian artists have created imaginative and meaningful artworks that showcase their interpretation of the 'spirit of giving'. The artists - primary school students from around the country - have the opportunity to win their school a share of $5,000 cash when the public go to http://www.kmart.com.au/wishingtree and vote for their favourite creation.
The artworks are part of the Kmart art of giving competition which invited students to draw, paint a picture or make a collage that represented the spirit of giving. The People's Choice Awards category allows the public to vote online for their preferred pieces, and put schools in the running to win cash and help students win a host of great prizes.
The two students who receive the most online votes in their respective age categories (Prep - Year 4 and Year 5 - Year 7) will each win $2500 in prize money for their school and an 8GB iPod nano or Nintendo DS Lite for themselves. Voting for the People's Choice Awards closes on 18 September 2009.
Over 2300 entries have been received with some schools submitting more than 180 entries. Of these, over 1000 pieces of the inspiring artworks have been posted online for the public to view and give their vote.
With an overwhelming response from Aussie schools, the competition's first year has shown the amazing breadth of the positive message of giving and how the notion can be interpreted in many colourful and creative ways!
The national winner of the art of giving competition will see their artwork used in promotional material for the 2009 Kmart Wishing Tree Appeal. The Wishing Tree is Australia's largest Christmas gift appeal. Thanks to the generosity of the Australian public, the Appeal has distributed more than 4.5 million gifts to people in need over the past 21 years. The 2009 Kmart Wishing Tree Appeal will launch on November 12.