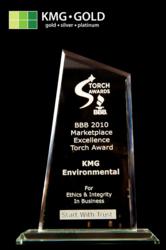 This is a great opportunity for anyone in Regina wanting to sell gold, silver, platinum and coins and get the most money in Canada
Regina, SK (PRWEB) February 13, 2012
KMG Gold Recycling, Canada's gold buyer since 2007, and the only Better Business Bureau Torch Award Winner for Ethics, Integrity, Honesty and Marketplace Excellence, will be at the 2012 Regina Stamp Sale and Show at the Regina Senior Citizens Centre.
KMG Gold will be at the Stamp Sale buying gold, silver, and platinum, silver and gold coins on Saturday February 18th and Sunday February 19th. The 2012 Stamp Sale and Show is sponsored by the Regina Philatelic Club and is being held in the auditorium at the Regina Senior Citizens Centre, 2134 Winnipeg Street, Regina.
KMG Gold Recycling buys, recycles, and refines all precious metals including gold, silver, platinum and palladium. KMG started as an internet gold buyer in 2007, and opened their retail location in Winnipeg in 2010. Since 2007, KMG has served thousands of customers from all across North America and has paid out millions of dollars for gold. KMG Gold Recycling is the only gold buyer in North America to win a BBB Torch Award, and they've won it two years in a row!
"This is a great opportunity for anyone in Regina wanting to sell gold, silver, platinum and coins and get the most money in Canada for it." Says Michael Gupton, president of KMG Environmental Inc. which operates as KMG Gold Recycling. KMG will also have their coin and militaria expert at the show.
KMG has been recognized as paying out the most money in Canada for gold, silver, platinum, and coins. This has been confirmed by numerous independent third party surveys including CBC News.
Unlike other travelling roadshow gold buyers that pay out little for gold and use marketing gimmicks to lure people in, KMG Gold pays up to five times more for gold, silver and coins than roadshows and travelling gold buyers. KMG posts all of their buy prices for gold, silver, platinum and coins on their website http://www.kmggold.com.
KMG works closely with the Canadian Cancer Society and Canadian Goodwill Industries, helping in raising funds for research and creating jobs. On top of matching every donation made during the show's time in Regina, KMG Gold will also donate a percentage of all purchases made at the Stamp Sale.
Gupton will also be in Regina Thursday and Friday February 16th-17th talking to local businesses interested in becoming a KMG Gold "Trusted Gold Buyer". Qualifying retailers would represent the KMG Gold Refinery in the purchase and recycling of unwanted gold and silver jewellery and other precious metals. The Trusted Gold Buyer designation recognizes businesses that have made a commitment to the same high standards of ethics, honesty, and integrity in their business dealings, as those demonstrated by KMG Gold.
KMG Gold established the Trusted Gold Buyer Program to help educate the public about precious metal recycling and to provide them with a means of recognizing businesses that will treat them ethically and where they can receive the highest payouts for their precious metals.
For more information on KMG Gold, please visit http://www.kmggold.com, or call us at 204-452-4653, or toll free at 1-877-468-2220.
Media Contact: Michael Gupton, BSc Eng (Civil) CTE AScT, President, KMG Environmental Inc., 204-452-4653
###