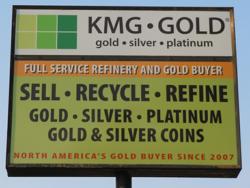 This is a great opportunity for our U.S. customers to enjoy the benefits of the continents' only BBB award winning precious metal recycler, refiner, and gold buyer
Grand Forks, ND (PRWEB) September 25, 2012
In response to a rapidly expanding American customer base and explosive growth, Michael Gupton, President of KMG Environmental Inc. which operates as in Canada is pleased to announce the opening of its American operating company, KMG Gold Recycling USA Ltd.
KMG Gold Recycling USA Ltd. is located at 1123 N 42nd Street, in Grand Forks, North Dakota. The new location will allow KMG Gold to better serve their rapidly expanding retail, commercial and professional client base in the United States.
The general public, jewelers, dental professions, dental labs, pawn brokers, crematoriums and gold buyers can now ship their gold directly to KMG Gold Recycling USA.
"This is a great opportunity for our U.S. customers to enjoy the benefits of the continents' only BBB award winning precious metal recycler, refiner, and gold buyer," says Gupton. "Our client base extends throughout North America, and our new U.S. location is designed to better serve our American customers, giving them to opportunity to deal directly with a refinery so they can get the most money for their gold and silver."
Although this is the first location for KMG Gold in the U.S., company officials have indicated it will not be the last and that they are committed to providing all North Americans with the ability to easily and conveniently convert their unwanted gold and silver jewellery and coins to cash.
Record gold and silver prices have created a high level of interest in recycling precious metals and the new KMG Gold Recycling USA location provides a convenient and attractive option for those consumers.
The key component of KMG Gold Recycling USA Ltd., is their commitment to consumer education. "We make every effort to educate our clients and the public at large about the precious metal industry so they can make informed decisions. We believe the best way for the public to protect themselves is to be knowledgeable," says Gupton.
KMG Gold Recycling, buys and sells, recycles, and refines all precious metals including gold, silver, platinum and palladium. KMG Gold started as an internet gold buyer in 2007, opened a retail location in Winnipeg Canada in 2010, and has several shipping outlets across western Canada and the United States.
KMG Gold Recycling has seen 6100% growth since starting to buy gold and silver. They are the only precious metal recycler in North America to win BBB awards for honesty, ethics and integrity. KMG won the BBB Torch Awards in 2010, 2011, and have been nominated again (by their customers) for this years 2012 award.
For more information on KMG Gold Recycling USA Ltd., and their commitment to the North American consumer, please visit http://www.kmggold.com, or call us at 701.757.4653, or toll free at 877.424.8818.
Media Contact: Michael Gupton, BSc Eng (Civil) CTE AScT, President, KMG Gold Recycling USA Ltd., 204-452-4653.
KMG GOLD – NORTH AMERICA'S GOLD BUYER SINCE 2007