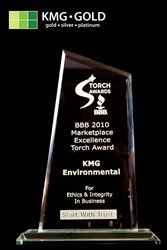 Gold-N-Memories will now be entitled to display the KMG Gold "Trusted Gold Buyer" banner and decals in their place of business.
(PRWEB) September 01, 2013
In an industry that has attracted more than its fair share of unethical individuals and those that are only in it for a quick dollar, it's refreshing to know that there are companies and individuals that hold themselves to the highest standards. We are happy to introduce you to one of them.
It is with great pleasure that KMG Gold Recycling announces the appointment of Gold-N-Memories of Steinbach, MB, as a member of their Trusted Gold Buyer Program. Gold-N-Memories joins a select group of businesses authorized to represent the KMG Gold Refinery in the purchase and recycling of unwanted gold and silver jewellery and other precious metals. The Trusted Gold Buyer designation recognizes companies that have made a commitment to the same high standards of ethics and integrity in their business dealings as those demonstrated by KMG Gold.
KMG Gold established the Trusted Gold Buyer Program to help protect the general public by educating them about precious metal recycling and by providing them with a means of recognizing businesses that will treat them ethically and where they can receive the highest payouts for their precious metals.
Gold-N-Memories will now be one of those companies entitled to display the KMG Gold "Trusted Gold Buyer" banner and decals in their place of business and to incorporate the designation in their business cards, stationery and other marketing materials.
KMG Gold Recycling buys, recycles, and refines all precious metals including gold, silver, platinum and palladium. Gupton started KMG Gold as an internet gold buyer in 2007 at KMG Gold Recycling and opened their first location in Winnipeg in 2010 and has now expanded into the USA with a location in Grand Forks ND. For more information on KMG Gold Recycling and its commitment to help educate the consumer, please visit us KMG Gold Recycling or call us toll free at 1-877-468-2220 or at 204-452-4653.
Media Contact: Michael Gupton, President of KMG Environmental Inc.
KMG GOLD – THE ORIGINAL GOLD BUYER