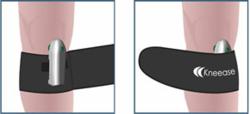 This represents a breakthrough in treating osteoarthritis in the knee
(PRWEB UK) 10 July 2011
Osteoarthritis of the knee affects one in five adults over the age of 50 and has a significant affect on their quality of life. Degeneration of the cartilage in the knee joint gives pain and swelling and until now, there has been no safe long term treatment for the pain. With severe cases the only option is a knee replacement but for the less serious, treatments are limited to anti inflammatories, which carry significant risk when used long term, weight loss and rest.
A medical team in Guernsey, UK, have now developed a patient administered treatment which gives pain relief to knee pain sufferers using vibration therapy. By applying a controlled vibration to the area of pain, it interferes with the pain impulse transmissions, causing disruption and providing pain relief. The vibration is effectively 'scrambling' the sensory impulses to the extent that they cannot be interpreted as pain signals by the brain.
The technique has been in widespread use for the treatment of other medical conditions with similar products for other conditions selling in many European countries and across the US. Now that the technology has been approved for use in the knee, it allows sufferers of knee pain to self manage their symptoms and possibly delay the need for surgery to replace the knee joint itself.
Called 'Kneease' the device consists of a breathable neoprene strap and vibration unit. The strap holds the unit under the kneecap and applies a precise frequency of vibration to the knee. The patient can wear the device under clothing and press a button to obtain pain relief at any time during the day. The pain relief device is battery powered, light enough to wear comfortably, and of similar size to a mobile phone.
Over 70 patients with various conditions ranging from severe osteoarthritis through to patella tendonitis and Chondomalacia tested the device in the initial clinical trial. Patients responded very favourably to using Kneease with comments such as 'the pain subsided significantly', 'its helping me avoid surgery' and 'it really helps with the pain'. The patients were particularly pleased to have a treatment that didn't involve taking tablets and one that they could manage themselves, rather than travel to the doctor to receive treatment.
Kneease has now been released for sale in the UK as a certified medical device. Available online at http://www.kneease.com and from many of the larger chemists in the UK for around £69, the company hopes that it can successfully bring pain relief to people suffering from osteoarthritis and other knee conditions.
For more information contact the manufacturers;
Medical Light Engineering Ltd,
Harbour Court,
Les Amballes,
St Peter Port,
Guernsey.
Order by phone by calling 0845 680 9635 or online at http://www.kneease.com
# # #