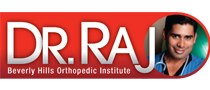 Dr. Raj is the top knee replacement doctor in Los Angeles and Beverly Hills - get an amazing result!
Beverly Hills, California (PRWEB) May 05, 2015
The top knee specialist in Los Angeles, Dr. Raj, is now offering unicompartmental knee replacement procedures for those suffering from limited knee arthritis. The procedure has been a revolutionary option for patients who want to achieve pain relief and minimize the surgery necessary. Call 310.247.0466 for more information and scheduling with the orthopedic surgeon Beverly Hills trusts.
Knee arthritis affects millions of individuals in America, and it does not occur symmetrically within the joint. In many cases, arthritis may be severe on one side of the knee, and minimal on the other. In those cases, a unicompartmental knee replacement may be an excellent option to help patients achieve substantial pain relief, while increasing dramatically one's functional ability.
Dr. Raj is a Double Board Certified orthopedic doctor in Los Angeles and Beverly Hills who has frequently been named a Top Doc in Southern California. He is an ABC News Medical Correspondent and a top knee replacement surgeon in Los Angeles. Each patient is treated with compassion, respect and a high level of skill. In addition to unicompartmental knee replacement, Dr. Raj offers total knee replacements along with stem cell therapy for regenerating damaged cartilage.
Dr. Raj is frequently interviewed by national publications and news stations about orthopedic issues due to his expertise and personality. Patients love his bedside manner, he treats everyone from celebrities to grandparents along with executives, students, manual laborers and athletes.
He focuses on minimally invasive procedures, which makes the unicompartmental knee replacement procedure a logical step for those who do not need a full joint replacement.
Most insurance is accepted at Beverly Hills Orthopedic Institute. To receive treatment with the top orthopedic surgeon in Los Angeles, call 310.247.0466 and visit http://drhipandknee.com to read more about the practice.