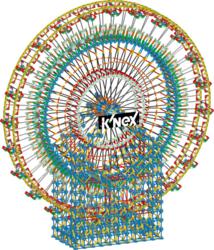 The K'NEX 6-Foot Ferris Wheel grabs the attention of kids and parents alike, inspiring them to build and be creative
Hatfield, PA (PRWEB) May 31, 2011
The Museum of Science and Industry, Chicago (MSI), added 6 feet of whirling fun to the 35,000 artifacts it boasts, with the addition of a K'NEX motorized 6-foot Ferris wheel. The Ferris wheel, built using K'NEX rods and connectors and on loan from K'NEX Brands, of Hatfield, PA, America's only building toy company focused on Building Worlds Kids Love™, will be displayed at MSI's Museum Store through the summer.
"The K'NEX 6-Foot Ferris Wheel grabs the attention of kids and parents alike, inspiring them to build and be creative," said Michael Araten, President and CEO of K'NEX, "so we knew it would be a perfect fit for the Museum of Science and Industry, a place known for jaw-dropping exhibits."
"MSI's mission is to inspire inventive genius in our guests, and this Ferris wheel is a fun example of what can be achieved with ingenuity, creativity and engineering," said Peter Papp, MSI Museum Store director. "We are excited to showcase it to our guests."
With 8,550 colorful parts and standing over 6 feet tall, the 6-foot K'NEX Ferris wheel is one of the largest K'NEX building sets of all time. It is displayed in the Museum Store, located in the Entry Hall, with an assortment of K'NEX building sets available for sale.
About K'NEX Brands
Founded in 1992, K'NEX Brands, the world's most innovative construction toy company, was established to make and sell what has become one of the world's leading integrated construction systems for children. Winner of over 200 international awards and recognitions, K'NEX is America's building toy company focused on Building Worlds Kids Love, and encourages youngsters to "imagine, build and play." Since 1992, The Rodon Group, a subsidiary of K'NEX Brands, L.P., has manufactured over 30 billion parts for the K'NEX building toy system. For more information, please visit http://www.knex.com or http://www.rodongroup.com.
About the Museum of Science and Industry, Chicago (MSI)
MSI offers thousands of fun and interactive exhibits and one-of-a-kind, world-class experiences to inspire the inventive genius in everyone. Through its Center for the Advancement of Science Education, MSI also aspires to a larger vision: to inspire and motivate children to achieve their full potential in science, technology, medicine and engineering. The Museum is supported in part through the generosity of the people of Chicago through the Chicago Park District. For more information, find MSI online at msichicago.org or call (773) 684-1414 or (800) GO-TO-MSI outside of the Chicago area.
###