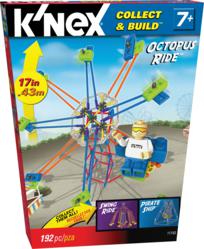 Hatfield, PA (Vocus/PRWEB) April 11, 2011
K'NEX Brands, the US construction toy company focused on Building Worlds Kids Love™, is pleased to introduce the new Xtreme Ops and Micro Amusement Park series to join the very successful Collect & Build line. Building enthusiasts can collect all the sets in each series!
Xtreme Ops Series
Xtreme Ops lets kids ages 5+ combine building fun with cool mission-ready vehicles. The Xtreme Ops Assortment 1 buildable battle-ready vehicles include Mission: Fireforce Rebels, Mission: Desert Strike, Mission: Jungle Guard, and Mission: Arctic Attack. Each set includes 80+ pieces, 2 K'NEXmen, 1 blaster, 2 missiles and a graphic label sheet for explosive fun! Mission: Desert Strike and Mission: Fireforce Rebels vehicles also have working suspensions for a cool battle experience. Suggested retail price $11.99. Available July 2011.
Ready for the next mission? Xtreme Ops Assortment 2 lets kids build even larger battle-ready vehicles including Mission: Jungle Rescue, Mission: Arctic Quest, Mission: Desert Command, and Mission: Fireforce Resistance. Each set includes 150+ pieces, 3 K'NEXmen, 2 blasters, missiles and a graphic label sheet for more extreme play. The Mission: Fireforce Resistance vehicle features working suspension to easily navigate rough terrain. Suggested retail price $24.99. Available July 2011.
The two assortments complement each other and can be combined to create an Xtremely cool mega build! How cool is that!
Micro Amusement Park Series
Introduced in 2008, the K'NEX Amusement Park Series™ has quickly become one of the most popular assortments in K'NEX history. Now the series is expanding with the addition of three new micro amusement park rides! Kids can build their own mini amusement park, with the Swing Ride, Pirate Ship, and Octopus Ride Building Sets! Each set is loaded with over 190 K'NEX rods, connectors and bricks and is kid-powered to move just like the real ride. Perfect for builders age 7 and up. Each sold separately. Suggested retail price: $11.99. Available March 2011.
Collect all the Micro Amusement Park rides to build a mini amusement park or combine the sets in Xtreme Ops to create an ultimate build. Each Collect and Build Series provides a complete building experience which can be enjoyed alone or by combining sets. K'NEX Collect and Build sets are available at major retailers nationwide and on knex.com.
About K'NEX Brands
Founded in 1992, K'NEX Brands, the world's most innovative construction toy company, was established to make and sell what has become one of the world's leading integrated construction systems for children. Winner of over 200 international awards and recognitions, K'NEX is America's building toy company focused on Building Worlds Kids Love, and encourages youngsters to "imagine, build and play." For more information, please visit http://www.knex.com.
# # #