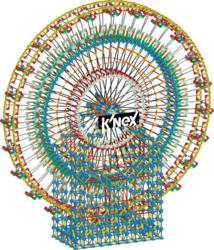 What better way to engage kids to learn about math and science than through creative and innovative play
Hatfield, PA (PRWEB) July 12, 2011
What is the angular velocity of the Blender Ride as it spins about the center post? This is just one of many questions that the American Museum of Science and Energy (AMSE) in Oak Ridge, TN is answering in K'NEX: Building Thrill Rides, a special exhibit that captivates young visitors and provides them the opportunity to explore the science, math and technology behind hair-raising amusement park thrill rides.
Joining forces with the American Museum of Science and Energy, K'NEX Brands, one of the world's leading integrated construction toy companies, is displaying models made solely from K'NEX rods and connectors. The models range from a roller coaster measuring over 10 feet long, to a 6 foot Ferris wheel, and a variety of swing rides from 3-10 feet.
The realistic actions of the models bring scientific and engineering concepts to life for students, who can conduct simple experiments to explore physical forces such as potential and kinetic energy, and linear and rotational motion.
In addition to the exhibit, AMSE provides hands-on activities and K'NEX building areas for children ages 6 and up and KID K'NEX for youngsters ages 3-5. Happily, children don't have to leave their on-site creations behind; instead, they can purchase their designs, with pricing based on a Weigh & Pay model (weight of total parts used at a predetermined price). The AMSE Discovery Shop also has K'NEX sets on sale for aspiring young engineers and architects.
"We are delighted to form this educational partnership with K'NEX," said Ken Mayes, Deputy Director of AMSE. "What better way to engage kids to learn about math and science than through creative and innovative play. K'NEX provides children with a marvelous construction toy that allows them to think out of the box, use their imagination, and learn about the physical sciences while also challenging them to go beyond the basics to more advanced learning."
The relationship with AMSE evolved from K'NEX's past and successful traveling exhibit program that offers a fun, interactive exhibit that creates a hands-on K'NEX environment for kids and their parents.
"The feedback from parents, the kids and the museums was tremendous," said Maureen Kratz, K'NEX Exhibits Manager. "We thought the idea of amusement park rides—one of our key areas of expertise—and the science powering them, was the perfect way to create a fun, exciting learning experience for kids."
The K'NEX: Building Thrill Rides will be at the American Museum of Science and Energy in Oak Ridge, TN through September 5, 2011. For more information about the exhibit, please visit http://www.amse.org. To learn about K'NEX Brands and the company's thrill ride exhibit, please visit http://www.knexexhibits.com.
About K'NEX Brands
Founded in 1992, K'NEX Brands was established to make and sell what has become one of the world's leading integrated construction systems for children. Winner of over 200 international awards and recognitions, K'NEX seeks to build young minds with its exciting product line and critically acclaimed K'NEX Education program. For more information, please visit http://www.knex.com.
###