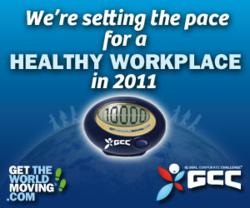 K'NEX and Rodon are excited to be participating in the challenge since it's a great way of making a lasting impact on the health of our personnel, while having some fun at the same time
Hatfield, PA (PRWEB) May 26, 2011
Employees from sister companies K'NEX Brands and The Rodon Group hit the pavement on May 19 with more than 125,000 other people from companies worldwide as part of the world's largest health and wellbeing initiative, the Global Corporate Challenge (GCC).
Established in 2004, the GCC aims to combat the growing health risks associated with the increasingly sedentary nature of today's modern workforce. It achieves this by challenging employees to walk over 10,000 steps per day – a proven and recommended way of reducing your overall risk of chronic diseases including cardiovascular disease and type II diabetes.
Divided into teams of seven, over the course of 16 weeks the employees will record their daily activity levels on the GCC website. Their activity is converted to an overall distance and the team's progress is plotted along a virtual tour of the world. The more active the team, the further they progress on their virtual journey.
Michael Araten, CEO & president of K'NEX and The Rodon Group said that encouraging employees to be involved in the GCC is a way to help employees improve their overall health, wellbeing, morale and energy levels.
"With employees spending a significant proportion of their day behind their desks, we feel it is important to help encourage physical activity in our day-to-day office routine. K'NEX and Rodon are excited to be participating in the challenge since it's a great way of making a lasting impact on the health of our personnel, while having some fun at the same time." said Araten.
This year, K'NEX and Rodon have registered 42 employees in the GCC. In total more than 125,000 people from 78 countries in the world will participate.
In addition to helping its employees improve their health, K'NEX is sponsoring 42 local primary school children to take part in the Global Children's Challenge. In 2011, the Global Children's Challenge will help over 125,000 children get moving and more active.
For more information about the GCC, please visit http://www.gettheworldmoving.com.
About K'NEX Brands
Founded in 1992, K'NEX Brands, the world's most innovative construction toy company, was established to make and sell what has become one of the world's leading integrated construction systems for children. Winner of over 200 international awards and recognitions, K'NEX is America's building toy company focused on Building Worlds Kids Love, and encourages youngsters to "imagine, build and play." Since 1992, The Rodon Group, a subsidiary of K'NEX Brands, L.P., has manufactured over 30 billion parts for the K'NEX building toy system. For more information, please visit http://www.knex.com or http://www.rodongroup.com.
About The Rodon Group
The Rodon Group is an ISO 9001:2008 certified land-fill free plastic injection molder. In business since 1956, the Rodon Group makes billions of parts each year in its 125,000 square foot facility. With over 105 injection molding presses, Rodon is one of the largest family-owned and operated injection molders in the United States and serves a diverse group of industries including consumer products, medical, construction, pharmaceutical and toys. Since 1992, Rodon has manufactured over 30 billion parts for the K'NEX building toy system, and is a subsidiary of K'NEX Brands, L.P.
###