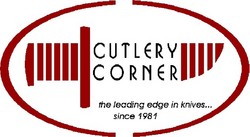 Cutlery Corner of Orem, Utah (Vocus) July 2, 2010
"Home of the $3 Sharpening" announced recently they are now accepting hunting knives, scissors, shears, mower blades, tools, and kitchen cutlery for professional sharpening from the lower 48 states in the US. Customers can expect a 1-2 day turnaround with free return shipping for orders over $70.
Gordon Gunn, owner, explains, "I've tried for over 30 years to run a business that treats people the way I like to be treated, with respect for their needs and with respect for their wallets. Professional sharpening doesn't have to cost an arm and a leg and it certainly doesn't have to come with high pressure. I've been doing that for 30 years for Utah County and now it's time to provide that same kind of low-cost, fast and friendly service nationwide. I must admit it is amazing to one day be sharpening a mower blade from Heber City, Utah and the next a knife from Martinsville, Indiana!"
In addition to providing professional sharpening, Cutlery Corner recommends the following tips to get the most out of your sharp knives:
1. Don't wash a quality knife in a dishwasher.
2. Store your knives separately in a block or with blade covers in a drawer.
3. Always use a cutting board in the kitchen.
4. Use a sharpening steel often. Don't let your knife get too dull.
5. Clean your knife immediately if dirty – even if the blade is stainless.
6. Keep your knife dry.
The economic downturn of the last two years has created an argument for replacing cutlery items instead of hassling with personal blade maintenance or paying the costs of professional sharpening. While late night cable channel knife hawkers and cutlery experts might disagree on what you should do, Alton Brown of Food Network fame, recommends that you have your knives professionally sharpened and not sharpen them in your own home. "Happiness is a sharp knife. Trouble is a great edge won't stay that way if you use it…Eventually the edge is going to wear away and then material will have to be removed to create a new one and that is called sharpening and that is best left to professionals!" (Good Eats Moments, 'Happiness is a Sharp Knife') With average sharpening costs at $3 per knife and with the possibility of free return shipping, Cutlery Corner makes having your knives sharpened by a professional considerably less expensive and convenient, regardless of location.
Having cutlery and tools sharpened out-of-state is not complicated. Complete instructions on how to pack and ship your items can be found at http://www.cutcor.com. Any questions, concerns or problems can be addressed by one of five customer specialists that have been employed at Cutlery Corner for 15-25 years.
Contact:
Gordon Gunn
801-225-9471
About Cutlery Corner
Privately owned for over 30 years, Cutlery Corner has provided high quality professional sharpening for northern and central Utah with a fast, personable, and no-hassle atmosphere. Cutlery Corner also specializes in the sales of high-end quality knife brands such as Benchmade, CRKT, SOG, Cold Steel, Buck, Spyderco, Swiss Army, Leatherman, and is a proud supporter of local military, fire, and law enforcement personnel, both active and retired.
###