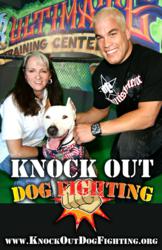 When I decided to wage war against dog fighting, I knew that in order to succeed, I had to have the best fighters on my team
(PRWEB) September 22, 2008
Los Gatos, CA For Pits' Sake, Inc. today announced that Mixed Martial Arts (MMA) fighter and entrepreneur Tito Ortiz has teamed up with them to "Knock Out Dog Fighting".
The award winning "Knock Out Dog Fighting" program is an unprecedented awareness and educational campaign, designed by For Pits' Sake, Inc. founder Kris Crawford, to combat the cruel and inhumane activity of dog fighting. Despite the fact that dog fighting is a felony in all 50 states, it is both widespread and growing. It is estimated that there are over 40,000 professional dog fighters in the United States and as many as 100,000 amateurs involved in the abhorrent activity, including children and gang-affiliated teens.
"When I decided to wage war against dog fighting, I knew that in order to succeed, I had to have the best fighters on my team," said Crawford. "We scored a Knock Out when Tito Ortiz joined us because he is one of the greatest Mixed Martial Arts fighters of all time."
Tito ''The Huntington Beach Bad Boy'' Ortiz is known around the world as the face of American Mixed Martial Arts (MMA). The former UFC Light Heavyweight World Champion is one of the most popular MMA competitors in the world and is admired as both a colorful showman and talented athlete.
"There are two kinds of warriors in this world," said Ortiz. "Those that are heroes by fighting for those who can't stick up for themselves, and those that are cowards by terrorizing and torturing the innocent. Dog fighting is animal abuse and those who fight dogs are not cool or tough...they are cowards."
Dog fighters and other animal abusers are some of the most violent offenders in the criminal justice system. Statistics show that most serial killers start their pattern of abuse as children, abusing animals. "The line separating an animal abuser from someone capable of committing human abuse is much finer than people care to consider," said Crawford. "If we can stop a child or young adult from abusing animals, we not only save the animals, but we may prevent him or her from committing violent crimes against people as well."
The members of "Knock Out Dog Fighting" produce Public Service Announcements (PSAs), visit schools, children's groups and youth in juvenile detention centers with the message that dog fighting is not "cool" nor is it a symbol of strength, power or greatness. The goal of the community outreach program is to shed more light on the prevalence of dog fighting, its overall effect on the community and to "Knock Out" the social acceptance of the barbaric activity.
Ortiz is not only one of the best fighters in the world, he is also a family man and successful entrepreneur. Ortiz is challenging his fans to show their strength and join him in Knocking Out Dog Fighting. For more information, go to http://www.KnockOutDogFighting.org.
About Tito Ortiz (TitoOrtiz.com):
Tito ''The Huntington Beach Bad Boy'' Ortiz is one of the most popular, and most controversial, mixed martial arts competitors in the world. As the UFC Light Heavyweight Champion from April 14, 2000 to September 26, 2003, Ortiz emerged as one of the sport's biggest stars, becoming the biggest pay-per-view draw of 2006 and appearing on the covers of various magazines. Ortiz is also the CEO of the Punishment Athletics clothing and mixed martial arts equipment line. Ortiz's acting ability and charisma have earned him roles in several films and TV series, including NBC's "The Celebrity Apprentice" and the CBS TV series "NUMB3RS." Ortiz may be known as "The Huntington Beach Bad Boy," but much of his time and energy outside the fighting arena is dedicated to charitable activities. Ortiz spends much of his time giving motivational talks to high school students and working with teen groups.
About For Pits Sake, Inc. (ForPitsSake.org):
For over a decade, Pits' Sake, Inc., a 501(c)3 nonprofit organization, has been a leader in the community for both human and animal rescue efforts, safety programs for children, and humane education. As world-famous search and rescue dogs, the For Pits' Sake pit bulls responded to over 200 search missions including high profile cases such as the search for Laci Peterson and the Space Shuttle Columbia disaster. These pit bulls -- Cheyenne, Dakota & Tahoe -- are also trained therapy dogs that work with mentally challenged, disabled and battered and abused children. Because of the success they've had with their programs and activities, Crawford and her pit bulls have been featured in news articles, books, magazines and on Animal Planet, National Geographic, The History Channel and A & E. They have received numerous awards, including a Jefferson Award, the American Red Cross Real Hero Award, a Certificate of Appreciation from the FBI, Letters of Appreciation from Senators and Assembly Members, and a letter from the Governor of CA stating they ''demonstrate the true strength of California and represent the best of the Golden State''.
###