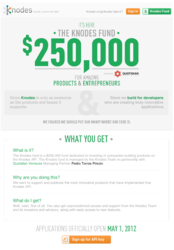 "The Knodes Fund is basically putting our money where our code is." Knodes CEO and Co-Founder Ron J. Williams.
New York, NY (PRWEB) March 12, 2012
Today, tech startup Knodes (in partnership with Quotidian Ventures) is announcing the launch of the Knodes Fund, a $250,000 fund that will invest in the best websites, applications and teams built on the Knodes platform, an API that provides developers with social data-based insights about their users across social networks like Facebook, Twitter, Foursquare and LinkedIn.
"The Knodes Fund was created in response to the overwhelming interest in the Knodes API by high-caliber developers and entrepreneurs," states Quotidian Ventures Managing Partner Pedro Torres Picón. With the launch of the Fund, the Knodes team is hoping to discover and kickstart a new ecosystem of developers, businesses and campaigns whose next generation social applications will be powered by its API. "The Knodes Fund is the most effective and fun way we can support and partner with innovative teams implementing our technology," exclaims Knodes CEO and co-founder Ron J. Williams. "We're basically putting our money where our code is."
In addition to the investment, winners will also benefit from early access to new features of the Knodes API and the mentorship of the Knodes team and its advisors.

How to Apply to the Knodes Fund:
The Knodes Fund is open to all individuals and companies building an application, website or program using the Knodes API.
Applications can be submitted at Knod.es beginning May 1, 2012. The deadline to apply for the first Knodes Fund class is June 1, 2012. The Fund will take applicants every quarter, with the next application beginning August 1, 2012. All applicants must be U.S. residents 18 years and older. Applications and supporting materials will be reviewed by Pedro Torres Picón of Quotidian Ventures and Knodes founders Ron J. Williams and John Goodwin. Selected applicants will receive up to $25,000 in equity funding. Selection criteria include product or application quality, innovation, and the effectiveness with which a product showcases the Knodes API.
Knodes is a new API that provides developers a simple way to access rich social data-based insights about their users across all of their social networks.
Knodes was launched in July 2011 by New York City based serial entrepreneurs Ron J. Williams and John Goodwin, whose most recent credits include founding SnapGoods, a website that lets you find local people who are willing to lend you their household items and gadgets for a daily fee.
A powerful tool for developers building next generation social applications, Knodes is dramatically increasing the efficacy of social sharing, creating more effective campaign tools for campaign managers and advocates and accelerating the pace at which developers can integrate social intelligence into their apps. "The problem Knodes is solving is that despite the importance of 'social' in media, nobody is making it simple for developers to access in-depth social data analysis," explains Williams. The Knodes API is already being used to leverage social data more effectively in political, non-profit and product launch campaigns. Knodes is pioneering a novel approach to social data analysis.
For more information on Knodes, email press(at)knod(dot)es or call (347) 651-0845.