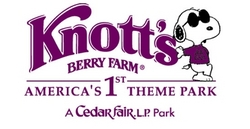 Buena Park, Calif. (Vocus) July 23, 2010
Though they don't look a day over 6, believe it or not Snoopy and the Peanut's Gang turn 60 this year! To celebrate, Knott's Berry Farm, will join with sister Cedar Fair Parks across the country to honor the cherished cartoon characters July 31 - August 8 with special activities, a stage show, and a donations drive for the Irvine Animal Care Center.
The Irvine Animal Care Center is the largest pro-humane animal shelter in Orange County receiving nearly 4,000 animals each year. Party attendees who bring in a "present" to Snoopy's party for the shelter will receive regular admission into Knott's for only $34.99 and a child's ticket (ages 3-11) for only $21.99. Among the items needed are dog/cat food, dog treats, animal toys, towels, blankets and much more. For a complete list of needed items, visit http://www.knotts.com and go to "Special Events." Representatives from the Irvine Animal Care Center and pets in need of adoption will be making an appearance at Knott's on Saturday, July 31 to kick off the event.
To celebrate this milestone birthday, Knott's Berry Farm is creating a special "Birthday Zone" for kids and their families. Upon entering the "Birthday Zone" all children 11 and under will receive an "invitation" that they will present at each party station. Planned activities include a Pin the Tail on Snoopy Game, an Ice Cream Cone Toss Game, Chalk Drawing Area and a Giant Birthday Card that everyone can sign. After visiting each station, kids will receive a coupon for a free chocolate chip cookie – Snoopy's favorite snack!
The celebration continues into the evening when Camp Snoopy comes alive with "Snoopy's Starlight Spectacular" a continuous light show filled with Peanuts' three dimensional figures, themed music, sound effects, voice-overs and colorful projections of the Peanuts' characters. In "Snoopy's Starlight Spectacular" guests will see their favorite characters in scenes that personify them – Lucy's dream of being a Hollywood starlet, Schroeder's musical genius, even Woodstock gets into the act as he and Snoopy go on a camping adventure.
Knott's Berry Farm became associated with Charles Schulz and the Peanuts characters back in 1983 when they created Camp Snoopy, a six acre land completely themed to the Peanuts characters. Camp Snoopy features over 30 rides and attractions and was the first area in an amusement park dedicated solely to kids under 12.
For hours on the day you plan to visit call (714) 220-5200 or check the Knott's Berry Farm website at http://www.knotts.com, where you can also save time and money with Knott's Print@Home tickets.
CONTACT: Michele Wischmeyer
Jennifer Blazey
(714) 220-5130
###