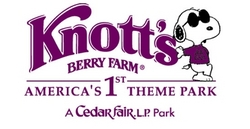 Buena Park, CA (Vocus) March 16, 2010
It's "game on" at Knott's Berry Farm this spring! Join Snoopy and all the gang as they get out in the fresh air and get in shape with all their favorite sports activities. Kids ages 3-11 will be given a score card upon entering Camp Snoopy and will have the opportunity to try their skill at some of our country's most popular pastimes. Kids can take a turn running the bases, kicking a soccer ball, shooting a few hoops, even doing a little victory dance. After completing all the stations, everyone goes home a winner with a special prize.
After a little exercise "athletes" may want to take it down a notch with "Team Charlie Brown," the live musical revue starring Charlie Brown and the Peanuts' Gang at the Camp Snoopy Theatre. Peanuts' pal J.T. will take everyone out to the ball game with this antic-filled show which includes audience participation and some catchy tunes.
Springtime also means the return of the Spring Crafts Fair located throughout Ghost Town. Artisans from throughout Southern California will be on hand selling a unique mix of crafts, jewelry, clothing and other gift items.
Guests to Knott's Berry Farm can make their Easter celebration extra special by booking your reservation for the all-you-can-eat Easter Sunday Champagne Brunch featuring glazed ham, roast turkey, smoked salmon, and carved beef at either Knott's Berry Farm or the Knott's Berry Farm Resort Hotel.
The family-friendly buffet served at the Knott's Resort Hotel in the Amber Waves restaurant can be reserved for just $21.95 Adult, $19.95 Seniors 62+ and $12.95 Kids ages 3-11, or book the traditional Champagne Easter Sunday Brunch at the Chicken Dinner Restaurant for $27.95 for Adults, $22.95 for Seniors 62+, and $18.95 Kids 3-11. Prices do not include tax and gratuity.
Reservations can be made for either the Amber Waves Knott's Berry Farm Resort Hotel buffet at (714) 243-2020 (must be pre-paid) or Knott's Berry Farms Champagne Brunch at (714) 220-5055. Menu subject to change. Both brunches include special appearances throughout the day by Snoopy and the Easter Bunny himself! Add on a full day of theme park fun with each buffet purchased for only $15.99 each.
Snoopy's Spring Training runs March 27-April 11. Though Knott's Theme Park closing times vary, Snoopy's Spring Training ends at 5:00 pm each day. Training session is included with regular park admission of $53.99 and junior rate (ages 3-11) and seniors (62 and older) are only $19.99 until April 11. Take advantage of the discounted online regular ticket price of only $31.99. For more information on all the exciting things that are going on at Knott's Berry Farm, call (714) 220-5200 or visit on the web at http://www.knotts.com.
# # #