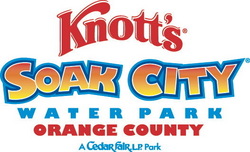 Buena Park, CA (Vocus) May 19, 2010
Summer fun is just around the corner and Knott's Soak City is where you'll want to be to soak up all the fun! Knott's Soak City opens its 2010 season on Saturday, May 22.
Knott's 13-acre water wonder world, adjacent to the world-famous Knott's Berry Farm Theme Park, has a decidedly Southern California theme inspired by beach and surf towns of the 1950's Orange and Los Angeles County coast. Water slides and attractions at Knott's Soak City pay tribute to the area's rich surfing heritage with names like Malibu Run and Laguna Storm Watch Tower. And like those at Knott's Theme Park, the rides and attractions at Knott's Soak City are truly world-class.
In 2007, Pacific Spin spun into action and was an immediate hit. This thrilling multi-person raft ride includes a 132-foot long tunnel that drops its riders 75 feet into a six-story funnel. After pitching riders back and forth through 5,500 gallons of swirling water, the ride culminates in a waterfall splash. Pacific Spin is Soak City's most action-packed water adventure to date, carrying 700 passengers per hour at a maximum speed of 35 feet per second!
If you have the need for more speed, brave the waves from high atop Old Man Falls or race your friends as you go headfirst on a mat down the six multi-lane speed slides of Banzai Falls. If you care to slow it down, the 750,000-gallon Tidal Wave Bay wave pool is one of the world's largest. In addition, the park's 1,700-foot.-long (1/3 mile), figure-eight Sunset River is the widest and one of the longest water park lazy rivers anywhere!
Time to relax? With 14 private poolside cabanas available for rent by the day, guests can have it made in the shade. Soak City cabanas are furnished with lounge chairs and your own private dining area; complete with food service and free inner-tube rentals.
Knott's Soak City Orange County also owns the distinction of being one of the safest water parks in the United States. For the ninth consecutive year the lifeguard staff of Soak City Orange County has been awarded the Platinum National Aquatic Safety Award for consistently exceeding the criteria for aquatic safety. This award is granted only to facilities scoring in the top 8 percent of the audit criteria as established by Jeff Ellis & Associates, a leader in aquatic safety consulting for water parks worldwide.
This commitment to both safety and family fun continues for the 2010 season. Soak City Water Park officially opens May 22, then continues operation daily May 29 through September 6, 2010. Operation will continue weekends only September 11 through 19, 2010. Regular admission is just $31.00 and $19.99 for juniors (ages 3-11) and seniors (62 and over) and includes unlimited use of all water park rides and attractions. Kids under 3 years old are always free! After 3 p.m. at Soak City everyone gets in at the junior price of only $19.99.
Also providing value is a Knott's Soak City season pass valid every day of the 2010 operating season. Season Pass prices are $54.99 for regular admission and $49.99 for juniors (3-11) and seniors (62+) now through June 18. Passes are valid for admission everyday of the 2010 season at Knott's Soak City water parks in Palm Springs, Orange County and San Diego.
Families can also take advantage of Knott's affordable multi-park vacation packages. The Knott's Berry Farm Resort Hotel, a 320-room deluxe hotel located on the property, offers many family vacation options including theme park and water park tickets for four. Two-night, multi-park packages start as low as $359 for a family of four including breakfast. Vacation package information is located at http://www.knottshotel.com or guests can call Knott's Berry Farm Resort Hotel Reservations at (866) 752-2444.
Operating hours vary and are subject to change as are prices, promotions and attraction availability. For information on the day that you plan to visit, please call (714) 220-5200 or visit us online at http://www.knotts.com.
Soak City Orange County is owned and operated by Cedar Fair Entertainment Company, a publicly traded partnership that is listed for trading on The New York Stock Exchange under the symbol "FUN." In addition to Soak City Orange County, Cedar Fair owns and operates 12 amusement parks, four other water parks, one indoor water park resort, and six hotels. Cedar Fair Entertainment Company also operates the Gilroy Gardens Family Theme Park in Gilroy, Calif. under a management contract.
# # #