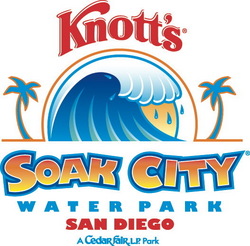 Chula Vista, Calif. (Vocus) May 19, 2010
Knott's Soak City officially opens May 22 for the 2010 season! Longboards, surf woodies and beach themes are back in order for the wildest and coolest place in the San Diego area.
Knott's 32-acre water wonder world has a decidedly Southern California theme inspired by beach and surf towns of the 1950s San Diego coast. Reflecting the local theme, water rides and attractions at Knott's Soak City pay tribute to the area's rich surfing heritage with names like Imperial Run, Sunset River and Solana Storm Watch Tower. Dick's Beach House keeps kids delighted for hours with dozens of squirt jets, water hoses, spiral slides and more. At 500,000 gallons in size, the Balboa Bay wave pool is one of the largest in Southern California. And guests will be amazed at the Coronado Express, a 78-ft.-tall, 668-ft.-long family raft adventure.
The park's most popular attraction continues to be Pacific Spin. This water thrill ride blasts riders down into a 132-foot long tunnel then dropping 75 feet into a six-story funnel. Riders then splash back and forth on 5,000 gallons of water in specially designed 4-person cloverleaf shaped tubes. This action packed giant water adventure carries 700 passengers per hour at a maximum speed of 35 feet per second!
With over twenty private poolside cabanas available for rent by the day, guests can have it made in the shade. Located throughout the park, these Soak City Cabanas are furnished with lounge chairs, dining table and chairs and include walk-up food service and free inner-tube rentals.
Soak City Water Park re-opens May 22 and runs daily May 29 through September 6, 2010. Operation will continue weekends only September 11 through 26, 2010. General admission prices are $31 for adults and $19.99 for juniors (ages 3-11) and seniors (62 and older) and include unlimited use of all water park rides and attractions. Kids under 3 are always free! After 3 p.m. at Soak City everyone is a kid with adult, senior and junior tickets available for only $19.99.
Also providing value is a Knott's Soak City season pass valid everyday of the 2010 operating season. Season Pass prices are $54.99 for adults and $49.99 for juniors (ages 3-11) and seniors (62 and over) now through June 18. Prices go up on June 19. Passes are valid for admission everyday of the 2010 season at Knott's Soak City Water Parks in Orange County, Palm Springs and San Diego.
Operating hours vary and are subject to change as are prices, promotions and attraction availability. For information on the day you plan to visit, please call (619) 661-7373 or visit us online at http://www.knotts.com.
Knott's Soak City San Diego is owned and operated by Cedar Fair Entertainment Company, a publicly traded partnership that is listed for trading on The New York Stock Exchange under the symbol "FUN." In addition to Knott's Soak City San Diego, Cedar Fair owns and operates twelve amusement parks, four other water parks, one indoor water park resort, and six hotels. Cedar Fair also operates the Gilroy Gardens Family Theme Park in Gilroy, Calif. under a management contract.
MEDIA CONTACT:
Brandon Paradeau
(619) 661-7373 x329
Jennifer Blazey
(714) 220-5130
###