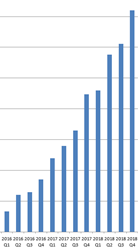 Q4 2018 was the most successful quarter we've had to date. It's an exciting time at KnowBe4, as we continue to experience a period of hypergrowth. -Stu Sjouwerman, CEO, KnowBe4
TAMPA BAY, Fla. (PRWEB) January 03, 2019
KnowBe4, the provider of the world's largest security awareness training and simulated phishing platform, today announced its incredible year-over-year sales increase, breaking all previous records with the fourth quarter 2018 61 percent over Q42017. Customer accounts reached record levels as well, just shy of 23,000 worldwide.
The fourth quarter of 2018 marks the 23rd straight quarter of growth, driven by an increasing enterprise demand for KnowBe4's new-school approach to security awareness training and expanding portfolio. The exceptional growth and organizational expansion were fueled by its technical and content innovation which gives IT professionals effective ways to turn their employees into a "human firewall" that can recognize and avoid cyber threats, thereby reducing risk.
"Q4 2018 was the most successful quarter we've had to date," said Stu Sjouwerman, CEO, KnowBe4. "It's an exciting time at KnowBe4, as we continue to experience a period of hypergrowth. We're constantly innovating our platform and creating new products to meet the needs of IT security pros worldwide. Recently, we launched an AI-based product that identifies social engineering risks and measures the effectiveness of our new-school approach to security awareness training. We also introduced PhishER, a new product that helps organizations to quickly investigate email threats reported by their employees."
Other recent and notable milestones and awards for Q4 2018 include:

Positioned as a leader in the Gartner Magic Quadrant for the second consecutive year.
Rocketed up to the #34 spot on the Deloitte's Technology Fast 500, appearing on the list for the third time in succession.
Won the Computing Security Excellence Award for Security Training Provider of the Year.
Selected as a finalist for the renowned cybersecurity industry awards from SC Magazine.
Hired former CIA technical intelligence officer Rosa Smothers as senior VP of cyber operations.
Leveraged Artificial Intelligence to identify social engineering risks with the introduction of the Virtual Risk OfficerTM and other new innovations.
Introduced a new product called PhishER that helps contain email threats.
Expanded its product suite to cover risk management by introducing a new Governance, Risk and Compliance platform.
Sjouwerman continued, "It's an honor to continue to be recognized in the cybersecurity industry for excellence with a whole boatload of awards. While the recognition is nice, our ultimate goal is to enable IT security professionals to educate their workforce so they can make smarter security decisions every day. When we hear feedback from customers who tell us how much our security awareness training and simulated phishing is making a difference in their security culture, we are delighted."
For more information, please visit http://www.KnowBe4.com.
About KnowBe4
KnowBe4, the provider of the world's largest integrated security awareness training and simulated phishing platform, is used by more than 22,000 organizations worldwide. Founded by data and IT security expert Stu Sjouwerman, KnowBe4 helps organizations address the human element of security by raising awareness of ransomware, CEO fraud and other social engineering tactics through a new-school approach to security awareness training. Kevin Mitnick, internationally recognized computer security expert and KnowBe4's Chief Hacking Officer, helped design KnowBe4's training based on his well-documented social engineering tactics. Tens of thousands of organizations worldwide trust KnowBe4 to mobilize their employees as their last line of defense.
Number 96 on the 2018 Inc. 500 list, #34 on 2018 Deloitte's Technology Fast 500 and #2 in Cybersecurity Ventures Cybersecurity 500. KnowBe4 is headquartered in Tampa Bay, Florida with European offices in England, the Netherlands, Germany and offices in South Africa and Singapore.