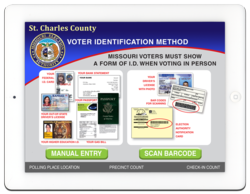 KNOW iNK has a unique technology to improve polling and we are thrilled to have that cultivated in St. Louis
St. Louis (PRWEB) May 14, 2013
Technology startup KNOW iNK, the creator of innovative iPad election technology that is transforming the election experience, today was announced a winner of the prestigious Arch Grants competition. KNOW iNK, best known for its next-generation electronic poll book, the Poll Pad competed with 707 companies from around the globe to win one of the 20 coveted Arch Grants.
Arch Grants is a startup competition that awards grants to St. Louis startups that are creating an entrepreneurial culture and infrastructure in the region. As an Arch Grants winner, KNOW iNK will receive $50,000 from Arch Grants as well as pro bono services from top tier companies in the St. Louis region: accounting, marketing, legal, IT and more.
"KNOW iNK really stood out from the 707 applications that were received this year," said Sarah Spear, Executive Director of Arch Grants. "KNOW iNK has a unique technology to improve polling and we are thrilled to have that cultivated in St. Louis. We are excited to welcome KNOW iNK as a winner of Arch Grants."
"We are positively thrilled to be a winner of the Arch Grants competition which will help us continue improving the voting experience for citizens, poll workers and elections officials across the country with the Poll Pad," said KNOW iNK founder and elections expert Scott Leiendecker. "We are grateful to everyone at Arch Grants for the opportunity to compete and for all they are doing to build successful companies in St. Louis. We are proud to be a St. Louis-based company and this grant will help us grow and expand here."
KNOW iNK was founded by former election officials like Leiendecker who are focused on using innovative technology to help election officials run their elections more efficiently while saving time and money for taxpayers. Their premier product, the Poll Pad, is the next-generation electronic poll book built entirely on Apple's iPad platform. The only electronic poll book built on the iPad platform, the Poll Pad is both easy to use and inexpensive for the election authority to operate. The Poll Pad can scan a drivers license or notice card and collect the voters signature directly on the device.
For more information on KNOWiNK go to http://knowink.com. For more information on the Arch Grants competition go to http://archgrants.org.