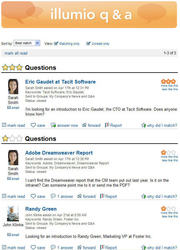 Any organization that needs people to connect at the right times on the right topics to collaborate or share information will find illumio valuable
Palo Alto, CA (PRWEB) June 24, 2008 -
Tacit Software, a leading provider of expertise location and collaboration software, today announced the availability of illumio 3.0, an updated version of the illumio software-as-a-service (SaaS) collaboration and expertise solution for enterprise customers.
illumio 3.0 streamlines the sharing of information, knowledge, and expertise within organizations so individuals can quickly discover and connect to the people and information they need in order to work more effectively. illumio combines collaboration, expertise, and RSS aggregation capabilities into a single, familiar newspaper user interface that simplifies deployment and accelerates user adoption in any organization, large or small.
Getting Value from All Those Wikis and Blogs
The volume of user-generated content is growing both outside and inside the enterprise, but harnessing this content is getting trickier for individuals who are increasingly suffering from information overload. illumio solves this dilemma by filtering all this content to show each person only what matches their particular interests. Using RSS aggregation, illumio gives employees a centralized place to track all the news and updates that are relevant to their work. With illumio 3.0, this information is now displayed in a personalized newspaper with each piece of content ranked from 0 to 3 stars based on how well it matches their interests. This makes it easy for individuals to efficiently track the information that's critical to their jobs and creates a compelling individual value proposition for employees to integrate illumio into their daily routine.
Leveraging Expertise Without Requiring Users to Build Profiles
People are a company's most important asset, but all too often, their knowledge and expertise are underutilized. illumio is the only collaboration solution available that leverages both the published and unpublished information of every employee to automatically build rich profiles of who knows what. By capturing 100% of everyone's expertise and doing it in a way that preserve each user's privacy, illumio allows individuals to quickly locate the experts on any topic without requiring people to build and maintain profiles. By not requiring people to create or share expertise profiles, illumio avoids the usual roadblocks to user adoption that are common with enterprise social networking solutions.
Improve Productivity in Every Corner of Your Organization

Efficiently Track and Share Competitive Intelligence
Marketing departments are using illumio to keep their teams up-to-date on competitors and provide a forum for sharing competitive intelligence. Without requiring anyone to publish their knowledge to a centralized repository, the illumio technology enables individuals to automatically connect with knowledgeable colleagues based on just the unpublished documents and emails stored on their desktop computers.
Improve Customer Care by Bringing Together the Best Minds
Professional services organizations are using illumio to share best practices and tap into the contacts and knowledge of others to better serve their customers. illumio makes it possible for geographically dispersed teams to easily share knowledge and better coordinate customer care without having to spam everyone with requests for information.
Avoid Re-Work and Wasted Effort in Product Development
Product development and engineering teams are using illumio to prevent redundant work due to poor communication and coordination. With illumio, developers can easily track related projects and connect with colleagues to leverage expertise that will help save them time and effort, avoiding costly project delays.
"Any organization that needs people to connect at the right times on the right topics to collaborate or share information will find illumio valuable," said David Gilmour, CEO of Tacit Software. "And unlike other knowledge management solutions out there, illumio protects the privacy of each individual through an opt-in model of notifying them when others seek their expertise and giving them the choice to respond or remain undiscovered."
Availability and Pricing
illumio for the enterprise is available as an on-demand SaaS solution for quick deployment and fast return on investment. Pricing starts at $15,000 for a 6-month subscription for 500 users, with larger deployments easily accommodated for an extra $5 per user per month.
About Tacit:
Tacit Software (http://www.tacit.com) is a leading provider of expertise location and collaboration software and the company behind illumio (http://www.illumio.com), a web 2.0 solution used by individuals and organizations that streamlines the sharing of information, knowledge, and expertise. Some of the world's leading Fortune 500 companies, including Lockheed Martin, Morgan Stanley and Northrop Grumman, use Tacit Software solutions to help employees make the right connections and collaboration happen.
###