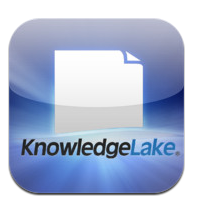 Having the mobile capabilities to onboard and interact with SharePoint content helps users complete projects faster, close deals sooner and serve clients better while out of the office - Matt Buechler, product manager, KnowledgeLake
St. Louis, Missouri (PRWEB) February 21, 2013
KnowledgeLake is excited to announce the recent launch of KnowledgeLake Capture for the iPhone and iPod, a SharePoint Enterprise Content Management (ECM) solution that keeps pace with a work force on the go. The mobile data capture solution, now available in the Apple AppStore, enables users to capture and send documents, images, and data to Microsoft SharePoint directly from an iPhone.
"We created this application in an effort to bridge the communication gap between field workers - whose desk is often nothing more than a passenger's seat - and their coworkers, customers and partners. KnowledgeLake Capture provides mobile users with greater access to business processes – both in the office and in the field – making their jobs easier and increasing productivity," said Matt Buechler, product manager, KnowledgeLake.
With KnowledgeLake Capture, SharePoint's robust workflow and content management capabilities are always within reach. The app empowers users to capture documents and photos from an iPhone's camera, tag content with searchable metadata, and connect road warriors to centrally-hosted business processes and systems.
Capture already offers a powerful solution for tagging and indexing content from a mobile device, but when combined with additional licensing for KnowledgeLake Imaging, Capture takes on a whole new level of speed and validation. When paired with Imaging's central metadata configuration, KnowledgeLake Capture is enhanced with collapsed taxonomies, look-ups and functionality consistent with KnowledgeLake's Connect and Capture desktop applications. With Imaging's SharePoint Business Connectivity Services (BCS,) Capture also allows users to automatically tag and associate their content with information available from their ERP, HR and CRM systems.
KnowledgeLake Capture requires:
-iPhone 4, iPhone 4S, or iPhone 5 with iOS 6.0 or later
-Access to a SharePoint 2010 site using Forms or Windows-based authentication
-KnowledgeLake Imaging enhancements require additional licensing for KnowledgeLake Imaging
"Considering the speed of business today, how quickly businesses gather, manage and use information can separate them from the competition. Having the mobile capabilities to onboard and interact with SharePoint content helps users complete projects faster, close deals sooner and serve clients better while out of the office," said Buechler.
To learn more about SharePoint ECM for the iPhone, watch this video or download the KnowledgeLake Capture App from the Apple AppStore.
About KnowledgeLake
KnowledgeLake develops document imaging related products and solutions for Microsoft SharePoint. KnowledgeLake extends the ECM capabilities of SharePoint, enabling businesses to reduce mailing costs, streamline operations, and achieve regulatory compliance using familiar Microsoft products that most businesses already own and use. KnowledgeLake products and solutions are deployed globally in thousands of organizations in many different horizontal and vertical industry sectors, including: public sector, healthcare, financial services, transportation and more.