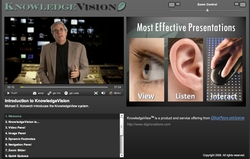 KnowledgeVision brings easy-to-use tools to communications, marketing, and training professionals so that they can create interactive presentations that are both memorable and impactful
Concord, Mass. (PRWEB) March 10, 2010
KnowledgeVision, the enterprise solution for creating on-demand, synchronized video business presentations for the web, is the centerpiece of a new Boston-area company, KnowledgeVision Systems Incorporated (KVSI). The company announced its formation and management team today from its headquarters in Concord, Massachusetts.
KnowledgeVision Systems will be led by veteran technology entrepreneurs Michael Kolowich, Rusty Williams, and Tom Crawford, each of whom brings extensive experience building companies focused on interactive media, collaboration services and web content management. Kolowich assumes the role of Executive Chairman, while Williams is the company's President and Crawford the Vice President of Sales and Market Development.
KnowledgeVision was developed originally by DigiNovations, a leading Boston-area media production company, to serve the growing global need for on-demand knowledge. "Nearly every organization in the world uses presentation software, and companies are increasingly compelled to use video as part of their online marketing mix," observes Kolowich, who shepherded KnowledgeVision through its first two years at DigiNovations and will continue in his role as DigiNovations' executive producer. "KnowledgeVision brings easy-to-use tools to communications, marketing, and training professionals so that they can create interactive presentations that are both memorable and impactful."
A complete demonstration of KnowledgeVision may be found at http://www.knowledgevision.com
"The thing that most impressed me about KnowledgeVision is how easy it is for organizations to implement rich-media presentations using materials that are readily at hand," said Williams, who was previously was Senior Vice President at Mzinga. "KnowledgeVision customers are already producing highly effective and attractive presentations after only a few hours of training."
"Professional services, financial services, healthcare, consumer, and higher education are using KnowledgeVision to deliver interactive presentations to their clients, employees, and partners," reports Crawford, who joined KnowledgeVision after serving as Director of Business Development at eCopy. "Customers are using KnowledgeVision for product launches, marketing campaigns, and training. Because of the unique nature of KnowledgeVision Presentations, we are just starting to see the ways customers are merging video and presentations as on-demand communications."
Michael Kolowich, KVSI's Executive Chairman, is a deeply experienced executive in online content and internet services. Prior to his role as founder and Executive Producer at DigiNovations, he was CEO of Individual Incorporated, co-founder of NewsEdge Corporation, President of AT&T New Media, founder and President of Ziff-Davis Interactive (ZDNet), Founding Publisher of PC/Computing magazine, and Chief Marketing Officer of Lotus Development Corporation.
Rusty Williams, KnowledgeVision Systems' President, is a recognized expert in online communities and social media. Early in his career he was General Manager of Delphi Internet which was acquired by Rupert Murdoch's News Corporation. He also served as Vice President of Individual Incorporated where he first teamed up with Michael Kolowich. More recently Williams co-founded Prospero Technologies a leading provider of hosted online community applications. While at Prospero, Williams was responsible establishing and managing key client relationships including CBS, ABC, MSN, iVillage, AOL, and ESPN.
Tom Crawford, KVSI's Vice President of Sales and Market Development, is an experienced executive in on-line content delivery solutions. Prior to his role with KVSI, he was Director of Business Development for eCopy which was acquired by Nuance Corporation. He also served as Senior Director of the IBM Alliance at StreamServe, and held multiple positions with Lotus Development Corporation.
About KnowledgeVision Systems Incorporated
Based in Concord Massachusetts, KnowledgeVision serves the world's growing need for on-demand knowledge by creating rich, engaging Flash presentations that are viewable on the web at any time with any type of computer. KnowledgeVision's hosted authoring tool, KVStudio, enables communication professionals to create presentations that tightly synchronize video, PowerPoint, images, and dynamic footnotes. KnowledgeVision Presentations are used for on-demand training, product demonstrations, marketing, sales, investor relations, and preserving the value of in-person presentations made by companies and organizations around the world.
###