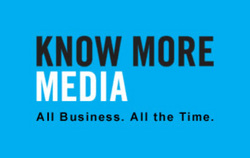 Online Density: How to increase your company's online visibility (or how more people can find you so they can buy more of your stuff).
Orange County, CA (PRWEB) October 19, 2007
Tim Stay, the co-founder and CIO of the business blog network Know More Media, has been selected to speak at the 2007 Blogging for Business (B4B) Conference in Salt Lake City, UT on Mon, Oct 22. The Blogging for Business Conference is geared to help business professionals understand and implement the power of blogging in their business.
The Blogging for Business (B4B) Conference is "the inaugural Intermountain West Blog Event for marketing, public relations, and business professionals. It's for anyone who wants to leverage this powerful publishing medium (and related technologies) for their own companies. The focus is deeply on application and execution," as the B4B website states. It will be held in the Salt Lake Marriott Downtown from 8:00am - 6:00pm on Monday, Oct 22.
"This conference is a great chance for businesses to learn how to leverage the power of blogging and social media in their marketing efforts to their customers," said Tim Stay, co-founder and CIO of Know More Media. "For a business to be successful online today, they need to have more than just a website. They need to show up well on Google. They need to be able to participate in the conversations that are happening on blogs, review sites, and forums. Companies need to know how to participate in the high traffic social media sites such as FaceBook, Flickr, and YouTube. In my presentation, I will show simple steps that most businesses can do to help increase their online visibility for their business and its offerings."
Tim Stay's speaking topic is "Online Density: How to increase your company's online visibility (or how more people can find you so they can buy more of your stuff)." He will speak at the conference from 3:40pm - 4:30pm. Stay helped create the Know More Media business blog network in Dec 2005, a network which has since become one of the largest business blog networks in the world. Know More Media's business blogs provide real-time news, information, and analysis on a variety of business topics, authored by topical experts who are authorities in their respective business-related fields.
Also speaking at the Blogging for Business Conference will be notable business and relationship bloggers Wendy Piersall and Liz Strauss, as well as the CEO of Podango Lee Gibbons, the Edelman Interactive VP Gary Goldhammer, and Politis Communications' Dave Politis.
"We knew we needed to feature experts, authors, and those working 'in the trenches' to help make the B4B event truly useful," said Matthew Reinbold for the Blogging for Business (B4B) Conference. "Each will be presenting indispensable talks custom tailored toward helping business professionals navigate this new and powerful online communications landscape."
About Know More Media
Know More Media (http://www.KnowMoreMedia.com) is a rapidly growing online publisher of business information and news, and is headquartered in Orange County, CA. Led by a team of seasoned business executives with many years of online publishing and business management experience, Know More Media is a revolutionary departure from traditional business publishing. The Company contracts with expert writers from across the globe to supply valuable business-related blog content to the online world. Its authors are typically practicing authorities in their fields, who provide their business advice and knowledge to business readers through a blog. Readers are encouraged to participate through comments and continuous feedback, thereby not only learning, but sharing their valued experience to an ever-expanding community of business expertise.
###