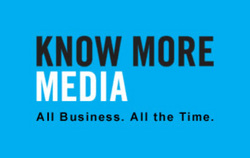 Our authors are practicing authorities who are experts in their respective business fields and industries
Orange County, CA (PRWEB) July 26, 2007
Know More Media, an online publisher of business information and news, and one of the world's leading business blog networks, has announced that it welcomed its ten millionth visitor to its network of niche business blogs on July 20, 2007. Know More Media launched its business blog network in December 2005, and has reached the ten million-visitor mark five months after welcoming its five millionth visitor to its network.
"Our focus then and now is to deliver timely, accurate and original niche business content and to also gather worthy business news and information that is produced by others," said Hal Halladay, CEO of Know More Media. "We realize 10 million visits in 19 months of our existence is only a start relative to traffic experienced by the online business giants. Still, we are grateful for the growth we've experienced and thankful to those readers that do find us and keep coming back. Niche business information has its place among the larger mainstream publishers. We look forward to the next ten million visits."
Know More Media currently has over 50 authors writing on over 55 active blogs that are centered on business topics such as marketing, finance, customer service and international business. Most of the authors live in the USA, and about 10% of them live overseas, in countries such as Germany, India, the Philippines and Bangladesh.
"Our authors are practicing authorities who are experts in their respective business fields and industries," said Dan Smith, VP of Publishing for Know More Media. "They work hard to provide business content that is interesting and valuable to our readers, as well as spread the word about that content. We are all focused on bringing as many readers as possible to our network."
About Know More Media
Know More Media (http://www.KnowMoreMedia.com) is a rapidly growing online publisher of business information and news, and is headquartered in Orange County, CA. Led by a team of seasoned business executives with many years of online publishing and business management experience, Know More Media is a revolutionary departure from traditional business publishing. The Company contracts with expert writers from across the globe to supply valuable business-related blog content to the online world. Its authors are typically practicing authorities in their fields, who provide their business advice and knowledge to business readers through a blog. Readers are encouraged to participate through comments and continuous feedback, thereby not only learning, but sharing their valued experience to an ever-expanding community of business expertise.
###