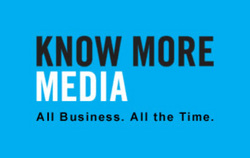 Our business blog authors are practicing authorities and experts in their specific fields
Orange County, CA (PRWEB) August 2, 2007
Know More Media, an online publisher of business information and news, and one of the world's leading business blog networks, last week announced the publication of its 50,000th business article on its network of niche business blogs. Since the launch of the Know More Media business blog network in December 2005, almost 100 separate business authors have contributed to writing and publishing the 50,000 blog articles, or blog "posts."
"We are very pleased with the business growth milestones we have recently achieved," said Hal Halladay, CEO of Know More Media. "Two weeks ago we welcomed our 10,000,000th visitor to our blog network. We are thrilled that so many people find the value in the business content on our network. These 50,000 posts and their authors are the driving force behind our increased readership and traffic. We look forward to when we can announce our 100,000th post."
Know More Media currently has over 50 authors writing on almost 60 active niche business blogs, and contributing almost 100 blog posts to the network per day, as a whole. The blogs are centered on business topics such as customer service, finance, advertising, international business, and entrepreneurship. Most of the authors live in the USA, while approximately 10% of them live in countries such as Germany, India, the Philippines, and Bangladesh.
"Our business blog authors are practicing authorities and experts in their specific fields," said Dan Smith, VP of Publishing for Know More Media. "Their knowledge, experience, and ability to convey that in writing to the public is vital to our company's success. 50,000 blog posts is approximately 7.5 million words of content, or about 75 full-length novels, all written in only 19 months. When I consider the technology, time, and human power it takes to produce that much original content online, it becomes truly astounding."
About Know More Media
Know More Media (http://www.KnowMoreMedia.com) is an online publisher of business information and news, headquartered in Orange County, CA. Led by a team of seasoned business executives with many years of online publishing and business management experience, Know More Media is a revolutionary departure from traditional business publishing. The Company contracts with expert writers from across the globe to supply valuable business-related blog content to the online world. Its authors are typically practicing authorities in their fields, who provide their business advice and knowledge to business readers through a blog. Readers are encouraged to participate through comments and continuous feedback, thereby not only learning, but sharing their valued experience to an ever-expanding community of business expertise.
###