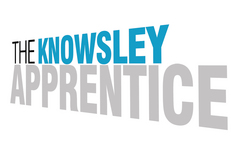 The Knowsley Apprentice is all about giving Knowsley's young people plenty of options for their future.
(PRWeb UK) August 28, 2009
As more young people across the country join the jobs market this summer, young adults in Knowsley will be taking their first steps onto the career ladder.
Knowsley Council has successfully secured employment and training opportunities for a further 100 young residents as part of its innovative Knowsley Apprentice programme.
While recent reports suggest school leavers will be the hardest hit by the recession and organisations are recruiting less apprentices, Knowsley's business community has been quick to become part of this trailblazing programme and recruit some of the brightest young talent in the borough.
Now in its second year, the Knowsley Apprentice has won national acclaim helping hundreds of local young people gain employment with businesses in the borough.
Cllr Ron Round, Leader of Knowsley Council and the inspiration behind the programme, said: "The Knowsley Apprentice is all about giving Knowsley's young people plenty of options for their future."
"Further education may not be for everyone and becoming an apprentice is a fantastic way to learn a trade, whilst studying towards a qualification and earning a wage."
"Last years Knowsley Apprentice was a huge success and we now have over 100 young residents in full time employment."
"To provide the same opportunities to another 100 ambitious individuals this year is extremely exciting."
Nick Kavanagh, Executive Director for Regeneration, Economy and Skills at Knowsley, said: "We are always looking for new and innovative ways to ensure that we provide our residents with the best opportunities to improve their lives. The Knowsley Apprentice is a fantastic example of how we have achieved this."
"In the current economic climate this is a hugely positive initiative for Knowsley and the wider region. The future of the economy relies on the enterprise and ability of our young people and the importance of this programme cannot be underestimated."
"The Knowsley Apprentice has attracted interest from all over the country and we want to build on this momentum and continue to secure opportunities for young people and create a more dynamic and well-qualified workforce for the future of Knowsley."
In addition, the council itself is reinforcing this commitment to local residents by offering a further 18 apprenticeships across its own directorates. The opportunities with the council will offer two year fixed term contracts across a range of departments including housing benefits, council tax, youth service and horticulture.
Notes to editors:
They offer for business and apprentices:
Apprentices

A three year work placement offering training to NVQ level 3 while they earn a wage.
All apprentices will receive a wage of £4.83 an hour (national minimum wage for 18-21 year olds) regardless of age
Each apprentice will have a mentor to call on for support in addition to a personalised support package
Opportunity to secure to a permanent job at the end of the placement
Businesses:

A subsidised young employee for three years
100% of salary paid in year one, 50% in year two
Training package up to NVQ level 3 for the apprentice in skills relevant to their placement
Business Support Officer single point of contact and a bespoke support package tailored to meet each business's needs
Media Contact:
Lisa Bennett
Communications Manager Regeneration Economy and Skills
Knowsley Council
0151 443 2221
###