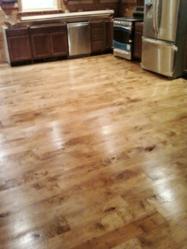 From start to finish, I treat my customer's floors as if they are my own.
Knoxville, TN (PRWEB) April 19, 2011
Founder Wrenzo Thompson attributes the quality of his work and the success of his business, Hardwood Refinishers and Installations, to his process. When he starts a project, he imagines that he is working on his own house and his promise to his customers is simple, "From start to finish, I treat my customer's floors as if they are my own."
Thompson's ability to empathize with his clients is rooted in his own history. Over twelve years ago, he moved into a 100-year-old Mission-style Bungalow and after restoring much of the home himself, his attention turned to the floors and he reached out to several local professionals. After being shocked by the price quotes he was given, Thompson, a do-it-yourselfer by nature, began learning everything he could about refinishing and it wasn't long until he undertook his floor restoration project himself.
Hardwood refinishing came naturally to him and the quality of his craftsmanship created a stir in his local community. It wasn't long until the offers began rolling in. Soon after, Hardwood Refinishers and Installation was born and even though the quality of work is first-rate, Wrenzo Thompson's early experiences as a homeowner have always guided his approach to both pricing and customer satisfaction. According to Thompson, "I was in the same shoes as my customers once and I believe that great quality shouldn't cost a fortune."
Hardwood Refinishers and Installation, is currently offering $2 per square foot on all hardwood installation projects through spring, 2011. For more information, visit them on the Web at http://www.hardwoodrefinishers.com or by phone at (865) 405-2310.
About Hardwood Refinishers and Installation
Hardwood Refinishers and Installation is a Knoxville-based hardwood refinishing contractor who has been in business for over ten years. Founder Wrenzo Thompson is a do-it-yourself homeowner at heart who started his business after realizing his passion and talent for installing and refinishing hardwood floors. They provide hardwood installation and refinishing services through Knox County, Blount County, Loudon County, and Sevier County.
###