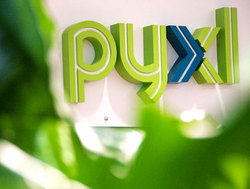 provides a change of scenery and helps employees to be more productive
Knoxville, TN (Vocus) March 25, 2010
Knoxville-based digital marketing services firm, Pyxl opened the doors to its new office at the Northshore Town Center. Located at 2099 Thunderhead Road, the innovative open floor plan design was created within a conventional leased office space and features unique, eco-friendly elements and décor purchased from Knoxville-area vendors.
Innovative Layout & Design
The space, which was designed to encourage creativity and teamwork among Pyxl's mobile workforce, features an open floor plan, numerous laptop stations and collaboration areas. The setup "provides a change of scenery and helps employees to be more productive," says President Josh Phillips.
"We wanted to create a fresh space that didn't divide people up by skill set, but rather let everyone work together and collaborate on projects," said Phillips. "We specialize in focused, integrated marketing campaigns, so it's important to let everyone participate throughout the process."
As an organization that has been virtually paperless for over a year, the Pyxl team utilizes online collaboration tools, as well as the office's large whiteboard areas and two large flat screen TVs for brainstorming.
"We've actually found that by eliminating much of the paper in our office, we are a more efficient and lean organization," said Phillips. "Information is even easier to sort and locate, and it allows everyone to focus more on their jobs and less on creating paper trails."
Environmentally Conscious Space
Pyxl partnered with Paige Stephens and her local interior design company, Buy the Room, to create a responsible workspace to mirror its environmentally conscious and paperless business practices.
With an overall eco-friendly vibe, much of the décor in Pyxl's office is made from reclaimed and sustainable hardwoods, soy-based fabrics, scrap metal and other organic materials. From the ray-reducing solar shades on the windows, to the waiting area rug made of recycled tires, to the energy-efficient appliances in the kitchen, Pyxl's main goal was to find and use items that would help lessen the company's carbon footprint.
"It's important for businesses to be aware of how we're affecting the environment and how we can work to reduce that impact," said Josh Phillips, Pyxl's president. "For us, sustainability and corporate social responsibility are core to our business plan."
The overall health of Pyxl's employees was another priority when designing the office. Low-VOC paint on the walls means less toxins in the air, while live plants and a water feature which acts as a natural humidifier further improve the air quality.
A Different Kind of Knoxville Business
The space also supports the local economy by using furnishings provided by Knoxville-area businesses and artists.
"It was important for us to give back to the community we're apart of by buying locally," said Phillips. "There are great artisans and businesses here in Knoxville, and as a community we should recognize the great opportunities right in our own backyard."
Pyxl's local partners include:

Buy the Room
R2R Studios
Bliss Home
Tiffany Suzzanne Photography
Stefanie Houser
Jim McMichael Signs and Truck Painting
For more information on Pyxl's new office, including photos, a video tour and further details on the partners who made it possible, visit http://www.thinkpyxl.com/ourdigs.
About Pyxl, Inc.:
Founded in 2000 and headquartered in Knoxville, Tenn., Pyxl delivers high quality digital marketing services in the areas of strategy, branding, campaign management, public relations, social media, graphic design and web development for established brands and venture-backed startups. Owned and advised by experienced sales and marketing executive, Brian Winter, Pyxl combines business expertise with award-winning creative genius to deliver marketing solutions that produce results. Visit http://www.thinkpyxl.com for more information.
###