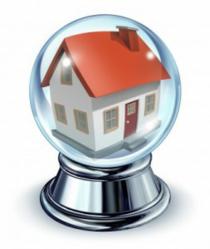 It doesn't happen very often when it is a great time to be a buyer and it's a market where there might be competition for your home if you are a seller.
Knoxville, TN (PRWEB) December 13, 2012
The Holloway Group, the leading Knoxville real estate team at Gables & Gates, REALTORS recently posted a new article on their website educating their clients on the latest Housing Market Outlook just released by Freddie Mac.
On December 10th, mortgage giant, Freddie Mac released it's U.S. Economic and Housing Market Outlook for December. The report looks ahead to 2013 and gives us a prediction as to what can be expected in the housing market.
Coming off many consecutive months of positive news, the outlook is that the housing market will continue to advance into the new year. The two major points of the report were:
-Long term mortgage rates should remain near their record low levels through the first half of 2013 and gradually rise during the second half of the year. Even with the second half rise, rates should remain below 4%.
-Home values should continue to rise with most U.S. price indexes seeing a 2 to 3% increase in 2013.
Freddie Mac's chief economist, Frank Nothaft stated, "The last few months have brought a spate of favorable news on the U.S. housing market with construction up, more home sales, and home-value growth turning positive. This has been a big change from a year ago, when some analysts worried that the looming 'shadow inventory' would keep the housing sector mired in an economic depression. Instead, the housing market is healing, is contributing positively to GDP and is returning to its traditional role of supporting the economic recovery."
Troy Stavros, Broker and Partner with the Holloway Group added, "What we are seeing in the local Knoxville real estate market is in line with Mr. Northaft's projections. With the low inventory levels we are witnessing, we could see Knoxville home values rise even faster than predicted. The affordability of housing right now is at historical levels. Buyers are seeing this and entering the market. Lack of Knoxville homes for sale is leading to competition. It doesn't happen very often when it is a great time to be a buyer and it's a market where there might be competition for your home if you are a seller. Unless you are currently underwater in your current home, there should be no more excuses, it's time to get off the fence and into the market.".
ABOUT THE HOLLOWAY GROUP AT GABLES & GATES, REALTORS
The Holloway Group is committed to bringing the best possible experience to fruition for buyers and sellers of Knoxville real estate. At the Holloway Group we don't believe average is good enough for our clients. At the forefront of the Holloway Group is experience. Our team was created to serve our clients even better with specialization and expertise. We know that individually we cannot be everything to everyone so we have come together as a group, bringing all of our different strengths, so you always work with the best. We pride ourselves on being ahead of the curve on technology and how it can serve our clients. When you are a client of the Holloway Group, you can expect to have our entire team of professionals working to fulfill your individual real estate goal. As a member of Leading Real Estate Companies of the World the Holloway Group and Gables & Gates, REALTORS can assist you with finding the most qualified real estate professional to suit your needs, anywhere in the world! Contact us today for assistance.