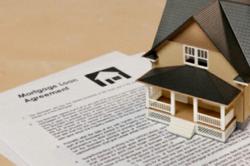 With today's inventory of Knoxville homes for sale down, many buyers are having to make compromises. Oftentimes they are having to buy an older home that needs some fixing up. The 203K Loan can be the perfect fit for those clients
Knoxville, TN (PRWEB) December 06, 2012
Recent figures from the National Association of REALTORS state that inventory levels of existing homes for sale are at a 10 year low. To assist buyers in opening up more options when house hunting, the Holloway Group, the leading Knoxville real estate team at Gables & Gates, REALTORS is educating clients on the benefits of a 203K remodeling loan. Troy Stavros, Broker and Parnter with the Holloway Group says, "With today's inventory of Knoxville homes for sale down, many buyers are having to make compromises. Oftentimes they are having to buy an older home that needs some fixing up. The 203K Loan can be the perfect fit for those clients".
Purchasing a fixer upper or foreclosures in Knoxville means buyers are typically getting a getting a good deal, but with that deal is the price of repairs. Foreclosure website RealtyTrac, reported that foreclosures sold at an average discount of 27% compared to non-distressed properties in the first quarter of 2012. Stavros said, "While inventory of Knoxville homes for sale has tightened quite a bit, you can still expect buy most foreclosures below market value because banks want them off the books before the end of the year". A great option for Knoxville home buyers picking up a fixer upper or foreclosure is the FHA203(k) loan. It allows potential buyers who want to purchase a discounted foreclosure but don't have cash for the repairs, to wrap the cost of repairs into the 30 Year loan. According to HUD, the 203(k) program is the department's main program for rehabilitating and repairing single family properties, and it's viewed as an important tool to revitalize Knoxville neighborhoods.
Eligibility for the property requires that it be purchased as a primary residence, and it must be a one-to four-family residence that has been completed for at least one year.
The maximum loan amount that can be obtained for the property is based on the value or the purchase price of the property before rehabilitation (whichever is less), PLUS the estimated rehabilitation costs (or 110% of the property after improvements, according to HUD).
ABOUT THE HOLLOWAY GROUP AT GABLES & GATES, REALTORS
The Holloway Group is committed to bringing the best possible experience to fruition for buyers and sellers of Knoxville real estate. At the Holloway Group we don't believe average is good enough for our clients. At the forefront of the Holloway Group is experience. Our team was created to serve our clients even better with specialization and expertise. We know that individually we cannot be everything to everyone so we have come together as a group, bringing all of our different strengths, so you always work with the best. We pride ourselves on being ahead of the curve on technology and how it can serve our clients. When you are a client of the Holloway Group, you can expect to have our entire team of professionals working to fulfill your individual real estate goal. As a member of Leading Real Estate Companies of the World the Holloway Group and Gables & Gates, REALTORS can assist you with finding the most qualified real estate professional to suit your needs, anywhere in the world! Contact us today for assistance.