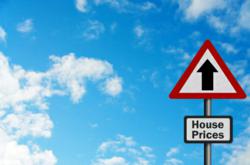 With the important caveat that credit does not tighten further and a fiscal cliff is avoided, Knoxville home prices should continue to rise.
Knoxville, TN (PRWEB) November 16, 2012
Leading Knoxville real estate team, the Holloway Group at Gables & Gates, REALTORS recently gave their clients a briefing on what the future holds for the national housing market.
Troy Stavros, Broker and Partner with the Holloway Group stated, "Whether it is when we are working with buyers looking at Knoxville homes for sale, speaking with our current sellers, speaking with past clients or talking with complete strangers, the question always comes up... What is happening with real estate and where do you see it going?
Equipped with information from the National Association of REALTORS that was garnered at the recent 2012 Realtors Conference and Expo, the Holloway Group shared the forecast. Stavros said, "With the important caveat that credit does not tighten further and a fiscal cliff is avoided, Knoxville home prices should continue to rise." The Holloway Group quoted NAR economist, Lawrence Yun who predicted a 6% increase in the median home price in 2012, followed by an increase of 5.1% in 2013, and comparable increases in 2014. Along with prices, sales are projected to increase each subsequent year as well. With 2012 seeing a 9% increase to 4.64 million, and 2013 increasing to 5.05 million, then 2014 to 5.3 million. The amount of distressed sales is predicted to decrease from about 25% in 2012 to only 8% in 2014. Economists saw mortgage interest rates increasing to and average of 4% in 2013 and moving higher to 4.6% in 2014 caused by inflationary pressure.
Stavros also noted that these predictions are for the national real estate market and reminded the Holloway Group clients that Knoxville real estate has fared much better than most other markets. "Looking at the local market, with distinct indicators such as low inventory, buyer demand, and competitive bidding tells me there is only one place for our market to go, and that is up. The only reason I can see this not happening is if buyers cannot access money to buy Knoxville homes for sale, i.e. lending standards get tighter, or if there is a major governmental breakdown such as the fiscal cliff."
ABOUT THE HOLLOWAY GROUP AT GABLES AND GATES, REALTORS
The Holloway Group is committed to bringing the best possible experience to fruition for buyers and sellers of Knoxville real estate. At the Holloway Group we don't believe average is good enough for our clients. At the forefront of the Holloway Group is experience. Our team was created to serve our clients even better with specialization and expertise. We know that individually we cannot be everything to everyone so we've come together as a group, bringing all of our different strengths, so you always work with the best. We pride ourselves on being ahead of the curve on technology and how it can serve our clients. When you are a client of the Holloway Group, you can expect to have our entire team of professionals working to fulfill your individual real estate goal. As a member of Leading Real Estate Companies of the World the Holloway Group and Gables & Gates, REALTORS can assist you with finding the most qualified real estate professional to suit your needs, anywhere in the world! Contact us today for assistance. Visit us at http://www.HomeTeamKnoxville.com.