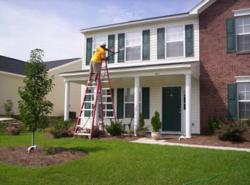 The 70's called and they want their lighting back! Unless you are planning on selling your home to Austin Powers it's time to get rid of some of the historical artifacts.
Knoxville, TN (PRWEB) January 03, 2013
The Holloway Group, the leading Knoxville real estate team at Gables & Gates, REALTORS has posted a new article on their website educating clients on "Tips For Increasing The Resale Value Of Your Home". Looking for ways to update your home prior to selling that might grab a buyer's attention? The following tips can guide you with some ideas that can add the right bang for the buck.
When deciding what will increase resale value, looking at what buyers want is imperative. But why wait and start these projects a month before putting your home on the Knoxville real estate market? Start small and start early, so you can enjoy the fruit of your labors now.
Landscaping can add plenty of curb appeal to a home as well as make a backyard feel comfortable. Buying big trees and shrubs can get expensive, so we recommend you invest in your landscaping early, giving it time to mature so it is ready when the time comes to sell. That being said, nothing can take away from nice landscaping like a sad lawn. So, maintaining a healthy, green lawn can really set the tone before the buyer even gets out of the car. Along with your landscaping nothing makes a first impression like a crisp clean exterior, so a good pressure washing of the home's exterior and walkways can make an impact.
The last step to curb appeal, deals with the last steps before walking into the home, and that is at the front door. Upgrading exterior doors that are visible from the street can change the look of your home completely. A nice, classy, front door, can get a buyer excited about seeing the interior of the home. Think about it, where are buyers standing, and what are they looking at, as they wait for their Knoxville real estate agent to let them in the home!
Troy Stavros, Broker and Partner with the Holloway Group joked, "The 70's called and they want their lighting back! Unless you are planning on selling your home to Austin Powers it's time to get rid of some of the historical artifacts." That includes outdated lighting fixtures, wallpaper, old carpeting, gold hardware, and possibly even the popcorn ceiling. Just updating to something simple, but current, can turn a big negative into an non-issue.
Kitchen remodels can come with a big price tag, so if yours is fairly current, small updates like new knobs on the cabinets or a new paint color may be all you need. Speaking of paint color, this is the least expensive way to make a huge impact on your home. Painting outdated or extravagant colors to a fresh coat of a modern neutral color, can not only make your home look newer, but cleaner as well.
Last on the list, is another addition that is worth completing sooner rather than later so you can utilize it. That being built-in storage. Adding shelving or cabinets in a hall, bedroom, closet, garage, family room, or just about anywhere for that matter can add quite a bit of appeal. Who doesn't like extra storage? We know buyers do!
ABOUT THE HOLLOWAY GROUP AT GABLES & GATES, REALTORS
The Holloway Group is committed to bringing the best possible experience to fruition for buyers and sellers of Knoxville real estate. At the Holloway Group we don't believe average is good enough for our clients. At the forefront of the Holloway Group is experience. Our team was created to serve our clients even better with specialization and expertise. We know that individually we cannot be everything to everyone so we have come together as a group, bringing all of our different strengths, so you always work with the best. We pride ourselves on being ahead of the curve on technology and how it can serve our clients. When you are a client of the Holloway Group, you can expect to have our entire team of professionals working to fulfill your individual real estate goal. As a member of Leading Real Estate Companies of the World the Holloway Group and Gables & Gates, REALTORS can assist you with finding the most qualified real estate professional to suit your needs, anywhere in the world! Visit our website to search ALL Knoxville homes for sale. Contact us today for assistance.